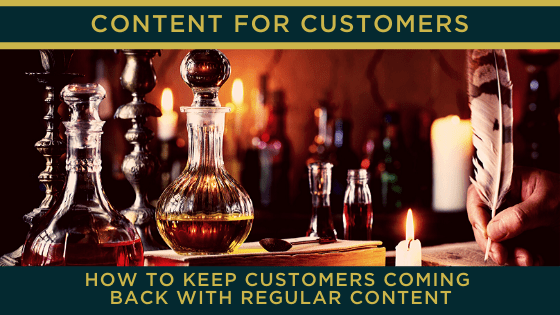 How to keep customers coming back with regular content
Regular contact with your customers is an essential part of great relationship building. Like any relationship this needs your time and attention, but the benefits (for you both) massively outweighs the work it takes to provide them with regular content.
You've got their custom – job done isn't it?
Regular contact ensures you're kept front of mind when your customers next need you and gives them additional piece of mind that their initial decision to invest in your product or service was a good one.
Providing regular (and interesting) content also means they have something tangible to share with friends to get them interested in what you have to offer as well. It's a great and easy way to keep the door open for your customers to refer you.
Get the balance right
There's a fine line though between being in touch with customers too much (in which case they will feel pestered and get fed-up) and too little (in which case they won't remember you!).
So, take some time to think about what frequency feels just right (for you and for them). Keep in mind that you'll need to provide interesting and valuable content each time you connect (rather than just dropping into their lives for the sake of it), so if initially you think you can only do this once a month then start there.
The key thing here is consistency!
So…
Decide what week/s, day/s and time each month you're going to connect
Schedule it into your calendar so you ensure consistency
Schedule additional time before to create your content
Arrive in your customers' inbox at the same time on the same day/s every month showing them that you're reliable
Content ideas
As a content creator, one of the things I often hear is, "I don't know what content to provide!" I understand, I really do, and it's at this point that I'll remind people that everything is content!
So many think that content for a business is only about writing a blog. But when you understand that everything is content, the breadth of what you can provide for your customers widens enormously. As I've mentioned before, you just need to keep your focus on it being helpful and interesting for them.
For instance, your content might cover…
Maintenance – if there are things your customer needs to do on a regular basis to look after their purchase or get the most from your service, drop them friendly reminders.
Renewals – contacting your customer in plenty of time before a renewal date is excellent business practice and shows that you're thinking of them before your own profit. Yes, potentially they might cancel their renewal, but better they do that having received a friendly heads-up from you that their next payment is due, than realise a week after renewal date when you've already taken their money and they have to go through the hassle of trying to get a refund!
Tips – we all love a great tip! So, provide your customers with tips and ideas for getting the most out of the products or services you offer.
What's new or coming soon – if you're building your relationship properly, then you can pretty much take it as a given that your customers are interested in what you offer. So, keep them in the loop when you're bringing out new products and services that may interest them. If you really want to delight them, you might like to offer them a special valued customer discount when they purchase as a thank you for their loyalty!
Introduce a friend offer – this gives your customers the opportunity to rave about how great you are and refer others to you, so it's a win-win for you both!
Lead generation offers – all businesses need to generate new leads, and this often involves providing something for free (or at a big discount) in return for signing up to your mailing list, e.g. a free content review. There's nothing stopping you from sharing this offer with your existing loyal customers too.
Feedback, reviews and testimonials – your customers can be your best (or worst) critics, so don't be afraid to give them their platform to speak. Ask for and welcome  feedback, reviews and testimonials – it's also nice to reward your customers with a little something for the time they've taken to support you.
There's more than one channel
Remember there are multiple ways to build and maintain regular contact with customers.
Some options are…
Automated emails
Videos
Text messages
Phone calls
Direct mail
When it comes to deciding on your channel/s think about what works in a time and cost-effective way for your business (and that you can make a consistent commitment to), and that will support and encourage engagement with your customers too.
If regular contact content is something you need support with, then get in touch for a FREE Content Review. You'll receive our expert advice on where and how to improve your customer experience, so your customers feel valued and return time and time again.
https://www.creativewords.cc/wp-content/uploads/2020/02/BlogHeader_ContentForCustomers_Blog03.png
315
560
The Content Alchemist
https://www.creativewords.cc/wp-content/uploads/2022/07/CW-LOGO-R-Landscape-White-300x128.png
The Content Alchemist
2020-02-12 13:00:30
2023-11-16 01:56:18
How to keep customers coming back with regular content