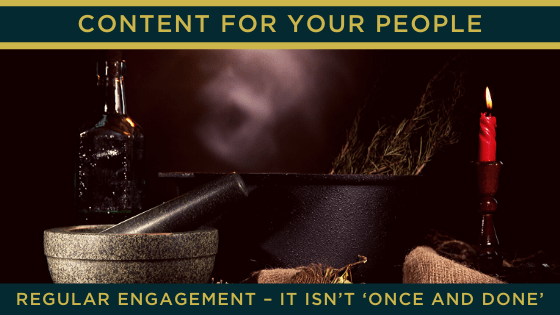 Regular engagement – it isn't 'once and done'
When it comes to communicating with your people, it's important to understand that regular engagement isn't a 'once and done' thing.
When people first join, they're like sponges soaking in information about who you are as a business and why the way you do things matters.
Over time however people forget unless, of course, they're kept engaged and connected to the business. The best way to ensure engagement is to have a plan for your regular communications. I'm not talking business conversations here; this is about keeping people connected and engaged with your values and vision and why it's so great to be part of your business.
Effective engagement methods
Depending on the size and geography of your business, the way you engage your people will differ. But here's some ideas in order of effectiveness:
Face-to-face in small groups to enable dialogue
Face-to-face presentation style
Video conference (the session can be recorded for those who can't make it)
These are all great interactive options that enable everyone to contribute. Of course, as your business grows, these engagement methods get harder, and so these interactions will likely move to quarterly events rather than weekly or monthly.
Supplementary communication
As well as face-to-face engagements, supplement your communication with…
E-Zines
Printed Newsletters
Video bulletins
Phone broadcasts
Company podcasts
Never assume that people should engage out of hours with what's shared. Otherwise these communications will be seen as 'optional' and only for those who are already committed. Ensure that everyone is given time during their working day to engage fully with the content.
If you're not sure what to share, here's a few ideas to get you started…
Celebrate any successes and invite your people to share good news too
Showcase the benefits and rewards of working with you. For example, if you have an employee benefit package, highlight one of the features that people can draw from.
Share updates, training courses and opportunities that are coming up in the business
Create a Q&A opportunity for your people
The main thing here is that you find ways to keep people plugged in and engaged with your business, to help them stay motivated to bring their best.
If you'd like some help creating a plan for how to keep in regular and effective communication with your people, why not book a free content review and we can give you some more pointers.
https://www.creativewords.cc/wp-content/uploads/2020/04/BlogHeader_ContentForYourPeople_Blog05.png
315
560
The Content Alchemist
https://www.creativewords.cc/wp-content/uploads/2022/07/CW-LOGO-R-Landscape-White-300x128.png
The Content Alchemist
2020-06-03 13:00:33
2023-11-16 01:46:54
Regular engagement – it isn't 'once and done'