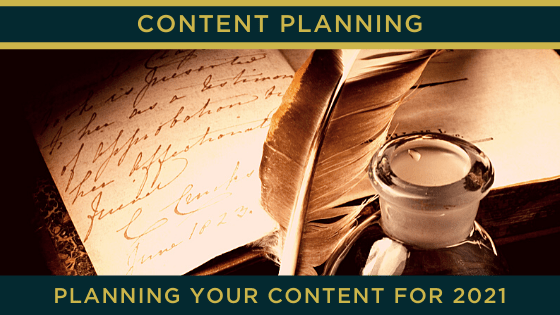 Planning your Content for 2021
December! A month of frenzy and then, on the 26th, it all goes quiet for a few days.
For most small business owners, this is a great time to draw breath, reflect and plan for the new year. So, if during your pause, you're thinking about content plans for the coming year, here are my top tips on what to consider.
1. What worked in 2020
2020 was not a 'normal' year by any stretch of the imagination! But, before you start eagerly looking ahead into 2021, take a moment to look at the content you put out this year. What worked? What didn't do so well? What types of content got the best results?
Also, make sure you look at your more permanent content – such as your website – and make sure it's up to date and still reflects who you are as a business.
2. Think across your whole business
Content is not 'just your website' or 'just a blog' – it shows up all over the place.
Think about how content can help you in:
● Marketing
● Customer engagement
● Staff engagement
● As an income stream
We've written a blog series covering each of these. Feel free to cast your eye over them to get some ideas and inspiration on where you might like to focus your content.
The main thing is that your content aligns with your business plan and your marketing strategy. So if customer retention for example is a top aim in 2021, content for customers is worth focusing on.
3. Know your audience
I know we bang on about this a lot, but unless you know who you're writing any piece of content for, you're just 'dumping' content on a disinterested world. And, let's face it, none of us have the time for that.
We wrote a blog about knowing your audience in my series on how to write which helps here (it pops up in many other blogs too).
4. Work out themes and ideas
This is the actual planning stage. Once you're clear on 'who' and what your audience needs to hear, you can map out the ideas, themes and formats for your 2021 content.
Start with a big list. It might be something like…
● Monthly Blog
● Monthly Staff newsletter
● Write a client onboarding sequence
● Refresh website home page
● Write an e-book on how to….
● Email marketing campaign targeting….
And so on.
Then flesh out your list with more detail. What blogging themes do you want to write about? Are there particular offers and messages you want to get in front of clients this year?
Take a look at our blog on planning content for more details.
We have a blog series on content for specific purposes too – so use those for ideas and things to think about.
5. Narrow it down
You can't do it all – so don't try! Go back to your business plan and choose the content which supports your main goals for 2021, and make sure your energies are spent on the content that will do most for you.
There's no point in having a plan that's impossible to deliver – that just leads to frustration and nothing getting done well. It's far better to pick one or two things to work on and do them to a really high standard.
6. Revisit often
A plan is just that – a plan. Which means it can change. Take a look at it regularly and adjust it. Perhaps a theme you had planned is no longer suitable. Or you've decided to focus on a different target audience. Or customer feedback is telling you something you now need to focus on.
Look at how your content is working for you too. If your blogs are generating lots of interest, increase the frequency. If your website is getting more visitors, consider how you'll convert those visitors into enquiries. If your e-book is getting lots of downloads, what could you be doing with email sequences after that point?
Never be afraid to change plans. As humans we are eminently adaptable – there is no reason why that shouldn't be the case in your content creation too.
Happy planning!
If you'd like our help to develop a content plan, get in touch to arrange a free content review which will give you lots of ideas for the year ahead.
https://www.creativewords.cc/wp-content/uploads/2020/12/BlogHeader_ContentPlanning_December2020.png
315
560
The Content Alchemist
https://www.creativewords.cc/wp-content/uploads/2022/07/CW-LOGO-R-Landscape-White-300x128.png
The Content Alchemist
2020-12-01 20:54:17
2023-11-16 01:33:52
Planning your Content for 2021