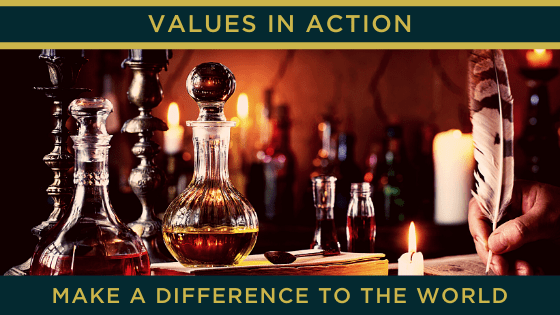 Make a difference to the world
How often do you stop and think about how privileged your life is compared to hundreds of millions of others?
The world is full of people who are not as fortunate as we are. It's shocking and humbling to think that the basic standard of living that we're accustomed to, is the equivalent of unheard-of luxury for some of our fellow humans.
And then there's our environment that's under huge threat because of an ingrained attitude of "quick fixes" and instant results. Our glorious planet and the animals that walk this land with us are crying out for us to do better and be better.
At Creative Words we hold hope and belief that things can be better. And wherever possible we do what we can to create a better world. Our promise to ourselves and to our clients is that we will never compromise on our values. We will not work with people who disregard the environment or seek to manipulate people to their own end.
We are a business for good
It's very easy for businesses to pay lip service to sustainability and Corporate Social Responsibility but not really embrace the true meaning of it. The fact is that actions speak so much louder than words. Surface level commitment simply isn't enough, well not for Creative Words anyway.
One of the most brilliant ways we've found to truly make a difference in the world is by linking arms with a global community and becoming a B1G1 Business for Good. The B1G1 initiative brings together more than 2,600 businesses from around the world. Each business makes significant impact in their own ways. At Creative Words, for every hour we spend creating content gold, we're also doing good in the world. Knowing we're making this impact makes us love what we do even more. To see more on how we've impacted the lives of others, take a look here.
Let's look at an example of another way we've found to give back and make a difference to small business owners.
Pete the painter
(Names have been changed to protect the innocent!)
Pete ran his own painting and decorating company. We first connected with him back in February 2020 when he was looking to have his website rewritten.
Then, in mid-March, Pete rang. The first national lockdown had just been announced.
"Well – my business is gone!" he said.
As was the experience for so many, just like that everything Pete had built was gone – it was heart-breaking! And Pete was not alone. It was such an incredibly challenging time for many business owners.
How can we make a difference?
With one of our core values being making a difference to the world, Cate immediately looked at what Creative Words could do to help. We already offered a pro-bono service for charities needing support with their content, so Cate pivoted this service and made it available to business owners impacted by COVID-19.
A phone call later with a very happy Pete and the team got to work writing content for his website. Before lockdown was over, Pete had a fully refreshed website. This helped him to continue marketing his business, so he could hit the ground running when service could resume.
And Pete was not alone! During lockdown Creative Words helped several other businesses. We offered support, advice and content that, during a really difficult time, helped put them on the front foot once lockdown restrictions were lifted.
If you're struggling in your business due to lockdown restrictions and would like our support with some great content to keep moving your business forward, please visit probono.creativewords.cc – we'll always do our best to support you wherever we can.
https://www.creativewords.cc/wp-content/uploads/2021/02/BlogHeader_ValuesInAction_Blog02.png
315
560
The Content Alchemist
https://www.creativewords.cc/wp-content/uploads/2022/07/CW-LOGO-R-Landscape-White-300x128.png
The Content Alchemist
2021-02-09 12:07:14
2021-02-09 12:07:14
Make a difference to the world