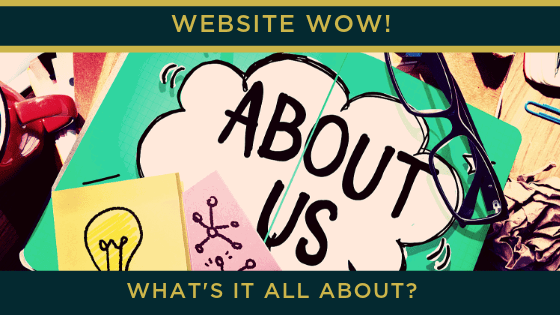 What is the second most visited page on most businesses' websites?
I only learned the answer to this one recently and it really surprised me. It's your About pages.
Strange, isn't it but it does make sense. It may not be the second place a new visitor goes (especially not if you've got your home page working right for you ) but, as they consider working with you, they will want to find out more about your history, your values and how you do things.
So they visit before they get in touch.
They visit after the first order when they have a question.
They visit when they've been a customer for a while and are curious.
They visit because it is the place one tends to put all that 'legal stuff' like your privacy policy and returns process.
That means that your About pages need to be given real care and thought and they need to be kept up to date. That means that, if you wrote your about pages way back in 2015 when you set up your business and haven't looked at them since (despite the fact that your business isn't the same as when you started) then they are long overdue for a revamp.
What to include in 'About'
This is your opportunity to say more about who you are and what you stand for. There are no fixed rules but here are some things you could consider:
Your vision, mission and values – to explain to prospects and customers who you are.
Your team – especially if you are offering a one to one service. Let people see faces and get to know you all.
News and media coverage featuring your business – if you are getting featured in the news, here is a great place to put all the 'clippings.'
Company history – once you have some. If you are a new business, you can gloss over this in a single sentence elsewhere (Formed in 2019, we are passionate about…)
The personal story of the founders – particularly for small businesses where the founders are still very visible in the day to day running of the business.
Frequently asked questions – again, you can add this once you have some. Right from the outset, though, keep track of questions customers ask you and use them to create an FAQ once you've got three or four.
Legal disclaimers – including your privacy policy, your terms of business, your returns policy, company information and so on.
The About pages are the opposite of the home page. Here is where you can put lots of information. People come here to learn more so you can give them detail. That does tend to be a double-edged sword though. The more detail there is, the more out of date it can become. So use your judgement on what will be easy to maintain and manage as you get busier as a business.
Whatever you do, don't forget to add in a ways for someone on your 'About' page to take the next step. We covered this in the 'Home' blog – it might be a 'Browse our shop' or a ' Arrange a call' or a 'Read my blog' but always include them.
After all, if they have come to these pages they want to know more and that means they are well on the way to becoming a customer.
Creative Words offers a range of web content services to fit any small business budget. Contact us to arrange a call.
https://www.creativewords.cc/wp-content/uploads/2019/05/1.png
315
560
The Content Alchemist
https://www.creativewords.cc/wp-content/uploads/2022/07/CW-LOGO-R-Landscape-White-300x128.png
The Content Alchemist
2019-05-15 13:00:21
2023-04-23 14:07:26
What's it all about?