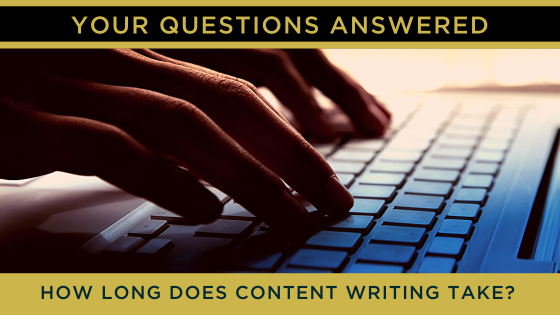 How long will my content creation take?
When you've made the commitment to use the writing skills of Creative Words, the next thought in your mind might be, how long will I have to wait for it?
When it comes to writing, we use a rule of thumb that 500 words will take two and a half hours of working time – but it isn't an exact science (250 words doesn't take an hour and a quarter, for example – it takes more like an hour and three quarters). That doesn't mean you'll be getting your content in the next four hours, however.
To appreciate the time it takes for content creation (elapse time), it probably helps to understand our process.
Step 1 – The Creative Brief
Based on the conversations we've already had with you, the first thing we do is create a brief for our writing team. This outlines exactly what you have asked us to do, the target audience, the outcome you are looking for and the tone of voice we need to use. We describe the project as accurately as we can and then ask you to review it to be sure we haven't missed anything.
The Creative Brief is the master document used by the whole team to be sure you get exactly what you are expecting. It is written by the person you've been speaking with so far, and is usually completed within 72 hours of the deposit being paid.
Step 2 – Writing
The approved brief is assigned to one of the writing team, who are chosen based on their areas of expertise and availability to meet your deadlines. You'll have direct contact with them, so they can ask you questions to clarify details and you can get to know who is working for you.
Depending on what other work they have on, it can take up to ten days for the first draft to be completed. They then pass it directly to the editor.
Step 3 – Editing
Our 'second pair of eyes' now takes look. They also use the Creative Brief to be sure the first draft matches the brief and to polish up the writing. The writer and editor may liaise on certain points to be sure both agree the writing meets the brief in the best way.
This usually takes another three to five days.
Step 4 – Set up
Depending on the project one of a few things will happen now to your content.
It will be sent back to you for review.
It will be passed to a graphic designer/web developer or printer for them to take the next steps in producing your final product.
Our setup team will find images, add it to your web pages or build the emails in your email system.
The specifics of this would have been agreed with you up front so you have as much (or as little) involvement in the process as feels right to you at this stage.
This might take up to a week though this is very variable depending on how complex the setup is and on how much you want changed at this point. If we did our job right with the brief, it ought to be relatively little!
Step 5 – Final polish
Based on your feedback and on how the content looks in its final home, we might make some final adjustments. For example, if text on a web page doesn't scan quite right on the page or we need to trim the mobile version, we'll do that. For print, we will include a proofread to be sure there are no mistakes before it is committed to paper.
We try to turn these corrections around within 24 hours.
And all that adds up to…
On average around three weeks from the time you sign the contract. It does depend on the scale of the project, of course, and how swiftly you come back to us to approve the brief and give feedback. Plus, naturally, if you've said there is a specific deadline you need to meet, we'll always aim to hit that (and we'll definitely tell you if we know we couldn't make it, before accepting the work).
Want to chat with us about how we can help you with your content project and how long it might take?  Contact us or book a FREE exploratory call.
https://www.creativewords.cc/wp-content/uploads/2023/04/BlogHeader_YourQuestionsAnswereds_Blog01-1.png
315
560
The Content Alchemist
https://www.creativewords.cc/wp-content/uploads/2022/07/CW-LOGO-R-Landscape-White-300x128.png
The Content Alchemist
2023-04-07 09:23:41
2023-04-10 08:04:52
How long will my content creation take?