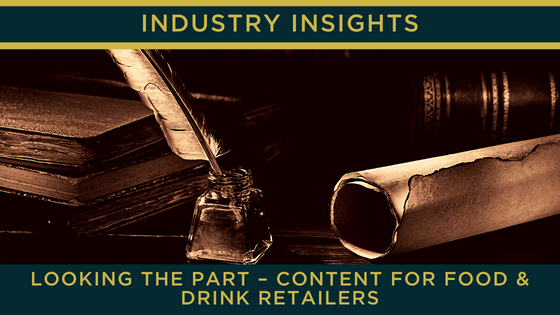 Looking the part – content for food and drink retailers
If you are a bricks and mortar café, restaurant, takeaway or pub, you'll have a number of ways you can showcase your business. You may be doing a few things now and have a few loyal customers. How you grow your client list and have people coming back time and again is largely down to the quality of food and service, but your marketing content has an important part to play too.
First impressions matter
If you are in a place with good footfall, your shopfront is the often the first place people will know you exist. Depending on the space you have, there are different ways your content can really shine. A nice big window is a perfect opportunity to entice customers to eat at your establishment. Sandwich boards are frequently used to advertise sample manus and hanging signs are used to pinpoint your location.
A crucial part of every business now is to have a solid online presence. When looking for somewhere to eat, most people will look up places online first. They'll be looking for three things:
About you and your menu on your website
Your Google listing for opening times and your whereabouts
Recommendation sites like Trip Advisor and Google
Keeping up appearances
The traps that many businesses fall into are keeping up their appearances on the street, but neglecting to do the same online. You may have a great looking shopfront, with all the right messaging and information for people walking by, but I'm willing to bet they won't be the majority of your customers over time. You must maintain a positive and friendly online presence too.
Up-to-date information is crucial if you want people to stop scrolling and decide to visit you. I advise my clients to do a Google search on their own business and see what they find there. Are your details (on your website, on Google listing, on Trip Advisor) all up to date? If not, get to it today! You'll miss out on customers, from planners to spontaneous visitors. Check your location, parking information, menu, attitude to children and dogs are all up to date now and make time to check them regularly.
Another common thing I find people overlooking is not catching customer details. You can capture this both in your establishment and online. Create a VIP list and ask customers to sign up to offers and exclusive deals. A pop-up on your website is a great way to capture this, and at your tables you can have a simple card with a QR code that people can scan to enter their details. Once you know who they are you can connect with them on a regular basis. Simple and automated!
Take your content to the next level – with the help of your customers!
To make a real difference to your content, involving your customers is an easy and persuasive way to advertise to your next customers. When someone makes a booking, you can set up automated emails to remind them of the date and asks them for a review after the event has passed. You can entice them to do that for a discount next time they visit.
If you are a takeaway, don't underestimate the power of an attractive menu! We all have them, in a drawer or pinned up on a noticeboard – the local takeaway's menu for when we next order. So don't be afraid to invest is some quality design and printing – it will be worth it!
If you run a restaurant, consider taking on more long-form content. Why not try writing blogs on your website or articles for magazines and papers on food topics that interest you? A placement in the local press or paid editorial in a magazine sets you up as an authority on the subject and entices people to look you up.
There are so many ways your content can bring in a steady stream of customers, so if you want a guiding hand to take your business to the next level, call us today for a free content review.
https://www.creativewords.cc/wp-content/uploads/2022/12/BlogHeader_IndustryInsightsSeries_Blog06-4.png
315
560
The Content Alchemist
https://www.creativewords.cc/wp-content/uploads/2022/07/CW-LOGO-R-Landscape-White-300x128.png
The Content Alchemist
2022-12-10 21:02:31
2023-11-16 01:02:17
Looking the part – content for food and drink retailers