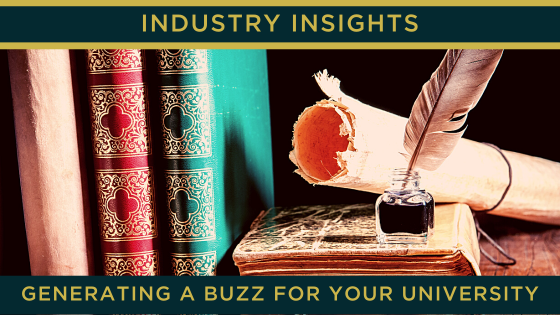 Generating a Buzz for Your University
The latest statistics from the government state that the UK boasted a staggering 2.9 million higher education university students in 2020/21, and other studies suggest that it is increasing each year by about 8%.
No wonder competition is fierce to entice, not only students, but top staff to universities across the country.
Getting bums on seats
So, you want to attract students and academics to your university. You of course have all the boxes ticked – a broad and diverse set of courses from undergraduate to PhD, a thriving Student Union, top shelf facilities, great remuneration and support for your staff, but you're competing with every other university that has the same offer, just in a different part of the country. So how is it done? How do you get bums on seats?
It starts with technology.
Review what you already have
Young tech savvy students who want to apply to universities will almost certainly start their search on the Internet. Your website needs to be all things to all people, and you will need a whole host of information to entice students to study with you. You'll have a comprehensive list of courses and services, but have you considered whether it is mobile friendly? Make sure it is because this generation of students will want to use their mobile, and not just for researching your website or applying for courses. A 2022 survey carried out by Wiley University Service found that 51% of students want to complete at least some of their course-related activities on a mobile device.
What about your prospectus? Is it in formats that everyone can access? Not only in terms of digital, downloadable, and print, but Braille and in languages for international students.
Keep it Current
How to keep your content up to date and consistent is a question you will be asking throughout the year as people access your content. A failsafe way to ensure relevance in both your prospectus and your website content is to have systems in place to capture new content in all your departments and schools and be open to feedback from students and staff past and present.
And if someone requests a prospectus, don't forget to take advantage of follow up communication. A simple set of emails can give prospective students and staff that nudge to get in contact.
Keeping your content up to date and relevant also includes your UCAS entry on their website. It's in a standard format, so creating an enticing offer includes standing out from the crowd. This is where punchy and attention-grabbing language can get you noticed. And the link from UCAS to your website should always go to a comprehensive home page were its easy to find what people are looking for.
It's all in the language
And talking of language, let's dig a bit deeper into balancing your reputation as an academic institution with enticements for students. If you are too frivolous in your content, you won't attract top academics, but if your language is dry and too 'academic', you'll put off young applicants. It can be tempting to focus on the traditional aspects of university life. But what makes you different? Can you explain why your university is different or better to someone who has no experience of study at this level?
Hitting the sweet spot
Standing out from a crowd of hundreds of universities and colleges can seem a mammoth task, so using smart content to get the best students and staff in your hallowed halls is a priority to can't afford to put off. Here are some ways I would recommend you start with:
Do the research – ask what other universities, particularly your direct competitors, are doing to appeal to a wide and varied audience. Why would a student come to you instead of them? Look at how you can go beyond replicating that to exceeding their offer.
Get your students involved in the content – they are your target customer so they will have lots to say. Go beyond the usual feedback form (which very few people will fill in by the way) and involve the Student Union. They have a wide network base that will allow them to survey other students. And tap into your business studies and marketing students too – let them put their studies to practical use!
Advertise your graduate outcome data on your home page as well as job prospects and outcomes linked to specific courses. It may seem a little showy, but it's what will stand you head and shoulders over your competitors.
Be inclusive. As I was writing this blog, I did a quick spot check on half a dozen universities and not one had a section on diverse student needs in their 'study with us' section. 25% of the population of the UK has a disability of some kind – that's a lot of potential students that you don't want to exclude.
Make the most of open days by backing them up with print. Give visitors the details to get in touch, how to apply in an easy-to-follow brochure. Differentiate it from the prospectus – make it smaller, with more targeted content to get potential students to press go on their application.
If the content of your website is letting you down and you need a professional pick-me-up, GET IN TOUCH for a free content review with Creative Words.
https://www.creativewords.cc/wp-content/uploads/2023/06/BlogHeader_IndustryInsights.png
315
560
The Content Alchemist
https://www.creativewords.cc/wp-content/uploads/2022/07/CW-LOGO-R-Landscape-White-300x128.png
The Content Alchemist
2023-06-19 10:00:31
2023-06-19 10:05:13
Generating a Buzz for Your University