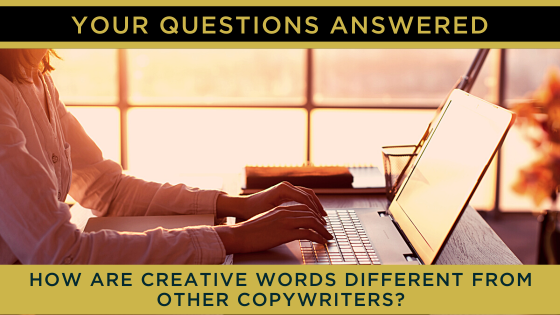 How are Creative Words different from other copywriters?
When you are choosing whether to work with Creative Words or to go elsewhere, knowing how we are different can help. So here is a quick rundown of the differences.
The typical copywriter
In general, a copywriter works for themselves. Most are sole traders, although some may have formed a limited company. In either case, the business will consist of one person.
They will have great writing skills and may well specialise in particular fields, either by industry (writing for the financial sector for example) or in writing styles (an expert in web content, or email marketing, say). Plus, with only one person, there is a capacity limit and you may have to wait for them to be available.
A good copywriter will spend time getting to know your business and tone of voice, will create the content you need and then make changes based on your feedback. They'll provide the finished content for you in a Word document or some other word processing format. Then they'll invoice you for the work.
Some copywriters might operate slightly differently but, in general, this is how it works.
Creative Words manages the whole process
When Cate first set up Creative Words it was as a copywriting business – just like the model described above. What she quickly realised was that business owners who are too busy to write their own content we also too busy to set it up, find images or liaise with web designers and developers. Projects which were previously stuck due to lack of content now got stuck at the next stage instead.
That was how content alchemy was born. A done-for-you content service. We write the content, set it up, find images and even share your content on social channels. If we are part of a larger project (a new website, for example) we'll work directly with the web developer so your content is loaded onto the pages and you aren't holding up the process because you don't have time to coordinate the different players.
We are a team
Creative Words has a team of writers and other experts, each with their own areas of specialism. So, if you need a writer who really understands the wellness sector, we can help, and if you want someone who writes killer email campaigns, we've got one of those too.
It means we've got the expertise but it also means we've got capacity so our clients can call on us when they need us and know we'll be there to help them.
The two pairs of eyes rule
Quality matters to us at Creative Words and one thing we always do is involve two writers in every project. We create a brief, a written document, which our clients approve, outlining everything about your business and the project. Then one writer will draft the work, the other will edit it both using the brief as their guide.
This means that by the time you see it, it should be a really fantastic piece of content.
And, if you are going to print, we'll also include a professional proofread to iron out any last mistakes.
Spreading the payments makes bigger projects easier to manage
For small businesses, cost is always a factor in using outside services and if you are embarking on a bigger project the costs can mount very quickly. For a website, for example, you've got design, development and content. It is usual to pay a deposit for these services and then pay the balance when the site goes live. That's a big chunk of money to find all at once.
At Creative Words you can spread that cost over a number of months – depending on the size and timescale of the project. That allows you to manage your cashflow a bit more easily without having to delay getting started.
We offer retainer packages too, if you know you want regular content. You can buy a bundle of hours each month and use them as and when you need them.
It all helps to make things easier for the small business who wants to stand out.
Want to know more about how Creative Words can create a great result for you? Contact us and we'll talk through our process together.
https://www.creativewords.cc/wp-content/uploads/2023/07/BlogHeader_YourQuestionsAnswereds_Blog05.png
315
560
The Content Alchemist
https://www.creativewords.cc/wp-content/uploads/2022/07/CW-LOGO-R-Landscape-White-300x128.png
The Content Alchemist
2023-07-07 18:11:38
2023-07-07 18:12:11
How are Creative Words different from other copywriters?