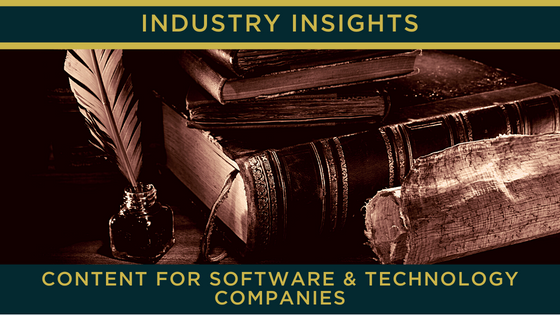 The IT crowd – content for software and technology companies
It's a vast online world out there, with thousands upon thousands of pieces that make it run smoothly. As a business offering software and technology services and products, you will be a part of that complex system that keeps everything from household smart meters running to power plants functioning smoothly. Your content doesn't have to explain it, however. What it should do is assure people of its relevancy – your clients don't need to understand it fully!
What your content says about you
What is important to remember is that you may be competing with high street big names – Curry's and John Lewis for example – and they represent a path of least resistance. They are long-established firms that offer great customer service. But with the fast pace of technology, they may be slow to respond to trends and sell only main brands rather than find the right fit for a client's particular needs. This is where your content needs to shine. Your website needs to address the competition and explain why customers should buy from you. Ask this question of your business – what problem am I solving for the client? With this in mind, creating your content to address this will lead you to, not only the right customers, but loyal and repeat customers.
Take care of your presence
Your online presence is your most important asset when it comes to selling your products and services. If your website is out of date and clunky, how are people going to trust an IT service or product? Even if web developing isn't part of your service offering, most of your clients don't understand that and will assume incompetence. There's no greater turn off than incompetence when offering a service!
However, it can swing the other way. You may be very enthusiastic about n+1 redundancy for your server farm, but most people will not understand what you are talking about. I know, the thing you most love in the world not understood by the average Joe! Sorry, but it's true. But what does farm mean in this context? Sheep, cows, maybe wheat? It's not relevant to them. When it really comes down to it, what your customers want to know is whether what you offer works and that's the sweet spot of your content. Answer that question and you're home and dry!
Another mistake is scaring your clients into buying your products or service. You may persuade them of a risk of crashes or data loss, even debilitating hacks, but the use of fear in your marketing is never OK. I mean it. You want to support your clients, not frighten them into buying a product in a rush because they think they are at risk. So let's look at the positive things your content can do.
Want to make a difference? Don't ask a geek!
First of all your content needs to show a high level of expertise. Take a look at how the big corporations do it. Spend some time researching Microsoft or Apple, Adobe and large IT service companies. What kind of language do they use in their content? Theirs will have a reassuring tone and an easy way to buy products and services on different levels to suit different customers.
Next, draw upon the reasons YOU are different, what stand YOU apart from the rest. What can you offer that is unique and a cut above the rest? Work this into every advert and each part of your online presence.
Lastly, get someone who know nothing about what you do to read it over. Hear me out. Will your clients be the people who know every little inch of your product or service? No, they want your product or service to make their lives easier, they don't want to know everything abou tit. So find someone to look over your content and take out all the geek-speak, so it becomes plain and simple what you do, without overwhelming, with being too simplistic.
And if you want someone to do this for you? Look no further than Creative Words! Call us now for a free content review.
https://www.creativewords.cc/wp-content/uploads/2023/02/BlogHeader_IndustryInsightsSeries_Blog06-5.png
315
560
The Content Alchemist
https://www.creativewords.cc/wp-content/uploads/2022/07/CW-LOGO-R-Landscape-White-300x128.png
The Content Alchemist
2023-02-04 02:25:32
2023-02-04 02:30:05
The IT crowd – content for software and technology companies