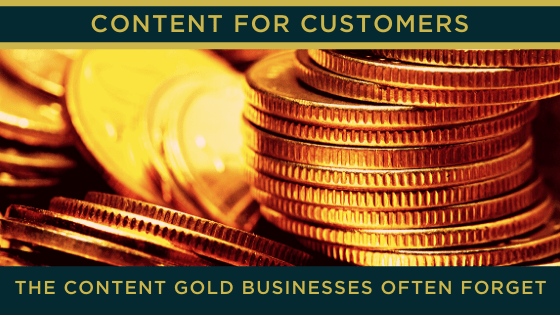 The Content Gold businesses often forget
There is an oft-forgotten type of Content Gold. One which is so important and yet frequently slips off the radar.
Can you guess what it is?
No?
It's Customer Care Content.
We've gone to all the trouble (not to mention financial outlay) to attract a customer and get them to buy from you so it would be crazy to then forget all about them in the frenzy to attract someone else.
Your devoted fans
The best type of customers any business can have are the ones that fall in love with your product or service, become loyal fans and can't wait to buy from you time and time again. So, it makes sense that a strong and regular focus on customer care, should be one of your top priorities when you're developing a content strategy.
It's worth mentioning that quite a lot of this can be systematised so it is easily repeatable. Some can even be automated – making your life really easy.
Why bother?
Let's make it clear – the cost of customer retention costs far less than customer acquisition.
That doesn't mean you no longer have to invest in them – not at all! But the investment you are making is through continued delivery of great quality products, and providing amazing all-round customer service which, let's be honest, are two things every business should primarily be focused on anyway.
Remember unhappy customers = no business at all!
The five ways
A key part of your customer care is delivered through great quality content. The five ways you can make this a memorable and valuable experience for your customers are:
How you greet and welcome them into your business when they first sign up (this is known as Onboarding). You get one chance and one chance only to nail this first point of contact!
How you keep in touch with them between purchases. Striking a balance with how often is important here – you don't want a rolling of the eyes and a "not you again" regularity, but equally you don't want to leave things so long they've forgotten who you are.
How you handle issues, feedback and complaints. Crucial, crucial, crucial! Whether we like it or not, it's often the way we handle things when they go wrong for our customers that becomes the thing they talk about the most to other people.
How you add value over and above the service/ product they have purchased. We all love to receive extras from our initial investment, and this is an area where you can get really creative and surprise and delight your customers in unique ways.
How you gather and share testimonials to promote your business and theirs. Testimonials give assurance to customers who may be sitting on the fence about whether to invest their hard-earned money with you or not. They're also a great way for you to reciprocate and thank your testimonial provider by sharing their business with your audience – win-win!
As you can see, these are some important areas that you can really go to town with and create a brilliantly unique customer experience. So, over the course of the next few weeks I'll be delving more deeply into each and sharing tips and ideas for creating awesome content that will give your customers a first-class experience of your business every time.
If you're already thinking this may be an area you need support with, then get in touch for a FREE Content Review. You'll receive our expert advice on where and how to improve your customer experience, so your customers feel valued and return time and time again.
https://www.creativewords.cc/wp-content/uploads/2020/01/BlogHeader_ContentForCustomers_Blog01.png
315
560
The Content Alchemist
https://www.creativewords.cc/wp-content/uploads/2022/07/CW-LOGO-R-Landscape-White-300x128.png
The Content Alchemist
2020-01-15 11:33:55
2020-01-15 11:33:55
The Content Gold businesses often forget