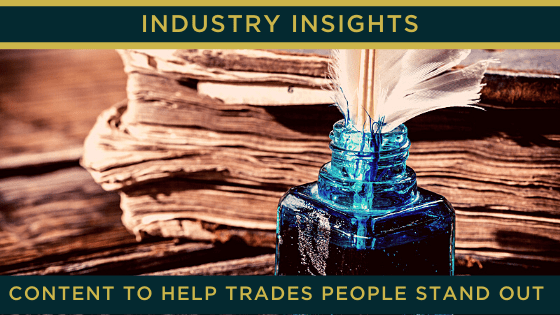 Creating content for trades to help you stand out
There's no doubt that electricians, carpenters, plumbers, painters and decorators are highly skilled tradespeople. And you're busy because of it. But often, working on your business can take a back seat. And this includes marketing.
What the content in your industry looks like
As a skilled craftsperson, writing might not be your forte, but it doesn't mean it's no less important to your business. It's an investment that shouldn't be overlooked. Now, not everyone wants to compete on price. Why diminish the experience and skill you have just to get a cheap job before your competitor? So, this is where content is the most powerful for you.
Most often people will do a Google search for tradespeople near them and having, so having a responsive website and an up-to-date Google Business entry are vital. Trade directories are always a great place to be found too and previous clients will leave testimonials for others to read. Testimonials and reviews from previous customers on your website are
Printed materials can't be underestimated either. Having well produced leaflets and brochures with you at all times can help you make connections wherever you go.
Transform your content
Someone, somewhere told you to have pictures of your van on your website, didn't they? Everyone has them. But just because every other website has one, should you too?
What does it tell your customers? You have a van. That's it. Now, of course you will need a picture of a van if you sell vans, or you are a vehicle signwriter, but why not think about being a little different. Yes, it's great to have a meet the team section, but people want to see how you help your customers. Have lots of before and after pictures, show people the transformation you made of a tired bathroom, or show them a quick video of how you created that beautiful carver chair.
I know, you don't like writing and even if you did, you don't have the time, so it gets neglected. I've seen many ancient websites with out-of-date details and a half-forgotten news section. But the solution is easy. Don't shy away from having someone check the details on directories and your website regularly or enrol the help of professional writers to keep your content updated, so you don't miss out on an audience and jobs you are more than capable of doing.
Actions to take to make a difference to your trades content
The best action to take, right now, is to think about your customer and what THEY are looking for. It's then so much easier to tie your messages to that. What you do is usually understood, but so you need to focus on what makes you different from your competitors.
Customers want reliability, quality, to be kept informed and for you to keep to deadlines!
I mentioned having images showing the finished result of your work but remember to include even the small jobs – a lovely, freshly painted room and new lighting, for example. Include a range of images that fit the budget of all your clients.
Investing the same attention into your content as the work you deliver sends the message to that you care about your existing and potential clients as well as your business. A leaflet printed on your home printer, with spelling mistakes won't cut it. If writing isn't your thing, look to professional help to transform your content.
If you would like to see how you can bring the shine back to your content, contact Creative Words today for a FREE content review.
https://www.creativewords.cc/wp-content/uploads/2022/05/BlogHeader_IndustryInsightsSeries_Blog03.png
315
560
The Content Alchemist
https://www.creativewords.cc/wp-content/uploads/2022/07/CW-LOGO-R-Landscape-White-300x128.png
The Content Alchemist
2022-05-07 13:00:24
2022-05-07 13:00:24
Creating content for trades to help you stand out