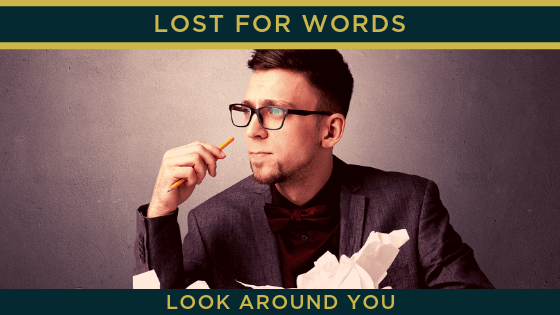 When you are seeking inspiration for content, simply lifting your eyes from the PC screen and looking at what is going on in the world can often give you some great ideas. So here are a few ways to draw from what you see, hear and experience in your everyday life to create great content.
Let's get topical
What is going on in the news today? What news stories are out there that you can use to feature in an article or a social media post to reinforce what your business does.
That doesn't just mean looking at the headlines (there is only so much that can be written about Brexit, after all). Do some searches on key terms relating to your business and see if anything of interest comes up: I recently came across a news item about how AI is being used to generate advertising copy, for example. That is a great social media share for me!
As another example, I was at a networking event a few weeks ago, delivering my '60-Second Gold' course to the room and there was an electrical safety engineer in the room. We debated whether he could start his 60-second pitch with "How would you feel if you discovered that you had accidentally burned down Notre Dame Cathedral?" That would then lead on to him explaining the importance of PAT testing to prevent electrical fires from starting.
When dealing with disasters, of course, it is important to be sensitive to the circumstances. The laws of good taste need to apply in force – otherwise you can generate a very different type of reaction to your content.
Off to the movies
What is going on in the the world of TV and films is another way to generate new content. Is there a new series out which is set in your type of business (or where your business could solve the problem of one of the characters)? Or does it feature a product or service you offer? One of my clients who makes waistcoats does this really well with a 60-seconds she uses: "You are watching Peaky Blinders and think: Damn – that is one fine waistcoat. Where can I get me one of those?"
See – that creates a connection with the room and makes them see how great it would be to have a bespoke waistcoat.
International content development day
Okay, I just made that up. To the best of my knowledge, there is no such International day. There are tons of others, though and some of them are pretty weird and whacky. Go online and you'll be able to find calendars of the various days to see where there might be a national or international day you could write about.
Is it national cup of tea day? You could write a social media post about your favourite cup of tea. Or you could write a newsletter about the crazy national days we have, how they came about, and which one is your favourite. And, if you are feeling bold, you could even invent a national day. "I declare it national lawnmower day" – just to raise a laugh and invite a few comments.
What you will find is that there are several different lists with many different 'days' to choose from, so don't limit yourself to just one set of results that come up in your search.
Even the weather can be a topic for conversation – especially if your business is seasonal (if you are a garden centre, promote irrigation systems as the weather gets warmer, and if you are a fabric shop, promote the knitting wools to prepare for winter).
You can even generate content from the parks and gardens around you as you go for a walk. The world around us is full of inspiration if you open your mind to what is there to be seen.
To get a better idea on how to generate great content ideas and turn them into working content for you, take a look at our online course Demystifying Content.
https://www.creativewords.cc/wp-content/uploads/2019/07/BlogHeader_LostForWords_Blog03.png
315
560
The Content Alchemist
https://www.creativewords.cc/wp-content/uploads/2022/07/CW-LOGO-R-Landscape-White-300x128.png
The Content Alchemist
2019-07-24 13:00:55
2019-07-24 13:00:55
Look around you