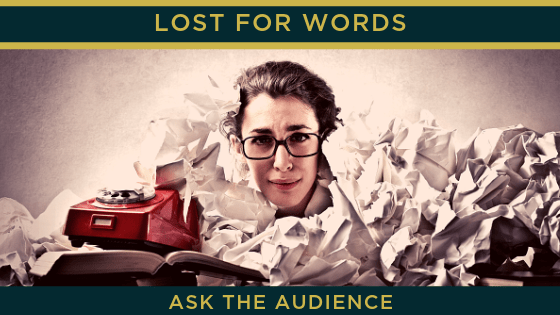 If you don't know what to write about, remember the first rule of content – it needs to speak to your audience. That means, of course, that your content ideas are easier to come up with if you have a specific reader in mind.
But, rather more obviously, it means you can askyour audience what they would like you to cover.
"What would you like to read about?"
So, when you are chatting with someone who you now read your blogs, simply ask what they feel would be a useful topic for you to cover. Not everyone will come up with something useful for a blog, but it might work for another content form (social media for example) or may give you an idea that builds from that. What's more, your blog reader may give you a cracking idea that keeps you in content for months (which, incidentally, is how this blog series came about!).
I'm not just talking about blogs, either – this rule applies for any content. For a 60-seconds in a networking event, you can ask people in the room what else would help them understand what you do even better.
And if you are being asked to give a presentation, ask the organiser what they want the audience to take away from your slot and from the whole day. They will be delighted if your presentations join up with the theme of the day.
Content has many audiences
Don't forget, by the way, that while you should only have one or two ideal clients, you will have multiple audiences for your content – customer, supplier, a related businesses, end users of your products, and so on, so think about topics to suit each of them. That doesn't mean each article has to appeal to all of them at once – but it does mean you can cycle through the audiences as you create content on a topic.
What are your frequently asked questions?
One really simple way to generate content that suits your audience is to think about the questions they most frequently ask when you are in a conversation or which come up in conversation. For example, people often say to me, "I'd love to write a book – but somehow I just can't get it done" which led to a blog series on that very topic.
Ask the audience to do the work for you
Finally, you can invite your best clients, suppliers and other experts in the field to write you a guest blog. This is a win-win – they get extra profile and sometimes they will ask you to reciprocate so you get to share your expertise to their audience.
Of the many ways to generate content ideas, talking to your audience is the most straightforward and is sure to pay off. After all, if you know what content people want to consume, when you produce it, they are bound to want to come and take a look.
To get a better idea on how to generate great content ideas and turn them into working content for you, take a look at our online course Demystifying Content.
https://www.creativewords.cc/wp-content/uploads/2019/07/BlogHeader_LostForWords_Blog02.png
315
560
The Content Alchemist
https://www.creativewords.cc/wp-content/uploads/2022/07/CW-LOGO-R-Landscape-White-300x128.png
The Content Alchemist
2019-07-10 13:00:51
2019-07-10 13:00:51
Ask the audience