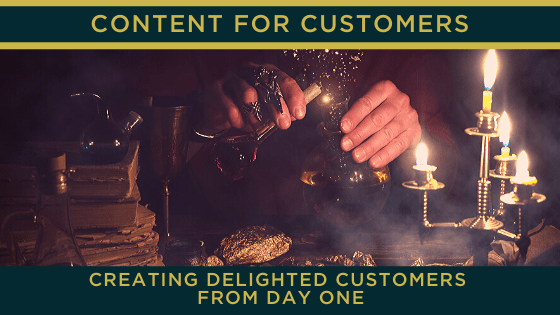 Creating delighted customers from day one
Using content to give new customers a great experience
Creating delighted customers from day one is a priority for every business.
While it's good to celebrate every new customer you get – it's great news that warrants a few high-fives and a moment or two to feel grateful – once the celebrating is over what else do you need to do to keep them happy and retain their loyalty?
Have I made the right decision?
In reality once a customer has made a buying decision, it's very common for them to then question if it was the right one! This is the point where it's important for you to step in with some great and simple content that assures them they've got it right.
One of the ways you can do this is with the processes you put in place, and one such process is creating a great customer onboarding experience. This requires you to take some time to think through what needs to happen next for your new customer.
What information are you going to need in order to provide them a first-class follow-up service now they've made their initial investment with you?
Customer onboarding
The time, thought and care you put in to creating the content for your onboarding sequence is very important, but the good news is it's a process that can be easily automated so you'll only need to do it once, and then all your future customers can reap the rewards.
If you haven't yet got on board with a CRM system such as Mailerlite, Mailchimp or Convertkit (to name just a few), then now might be the time to investigate and sign up to one. These systems allow you to create things like emailing sequences that will activate and run automatically once a new client comes on board.
Creating your onboarding content
The content you provide within your onboarding emails needs to be focused on making your customer feel seen, while establishing a relationship with them and giving them value above and beyond the investment they've made with you.
An example of an onboarding email sequence might look something like this…
    Welcome email – this is your opportunity to say hello and give your customer a warm welcome to your business. Express your thanks and delight that they've made a purchase with you and reassure them that they've made a great choice!
    Meet the team email – introduce your team so your customer knows who to contact if they have questions or need any support. You might also like to share a little bit of interesting and relevant information about your business and its values – this helps create an emotional connection to what you have to offer. Now is also a great time to invite your customer to join your mailing list and keep up to date with news and any offers you run.
    Getting the Most from Your Purchase Email – giving your customer some tips on how to get the best results and maximise the benefits of the purchase they've made, provides great additional support. It also helps them overcome any fear or obstacles that might be creeping in having now parted ways with their money. This also opens up the opportunity to ask your customer for a review, which can benefit you and future customers enormously.
    An Offer or Something Extra Email – they are now a valued customer so what can you do to let them feel that way? Depending on what you offer, if it's not too early in your relationship you might like to invite them to get a friend involved, or gift them with a downloadable product you have in your offerings that will give additional value and meaning to the purchase they've made.
    A Feedback Email – ask your customer how they're getting on with their purchase. Inviting feedback helps you to then resolve any issues early rather than waiting for a potential complaint to arise. This also opens the door for using this information as a testimonial for your product or service – with your customer's permission of course!
With a follow up sequence like this you hit all the marks with your new customers, providing them with value at each touchpoint, while building that vital relationship by showing them that you care.
If creating the content for your onboarding sequence is something you need support with, then get in touch for a FREE Content Review. You'll receive our expert advice on where and how to improve your customer experience, so your customers feel valued and return time and time again.
https://www.creativewords.cc/wp-content/uploads/2020/01/BlogHeader_ContentForCustomers_Blog02.png
315
560
The Content Alchemist
https://www.creativewords.cc/wp-content/uploads/2022/07/CW-LOGO-R-Landscape-White-300x128.png
The Content Alchemist
2020-01-29 14:15:49
2023-11-16 01:57:28
Creating delighted customers from day one