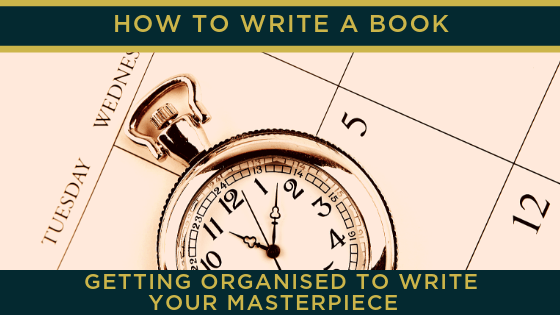 Getting organised to write your masterpiece
At the start of the year you said to yourself "This is the year that I'm going to write a book."
If you've been following my blog series on this topic you'll now have a better idea of what is involved. Now, then, is the time to get organised and, by bringing it all together in this final blog, setting yourself up to make things happen.
Create the time to write
Back in part 1 I told you that you need to write every day. To create that author discipline, make sure you are doing what is necessary to carve out time for yourself.
Plan your work
Whether you are writing fiction or non-fiction it pays to have a plan. Invest time in the planning and outlining process so you know what needs to be worked out and when. Then build a writing schedule around this.
Take twice as long in reviewing and editing as in writing
However long it takes you to write your book, you should be planning to take twice as long to edit it. However eager you are to see you book in print do not rush this stage. Otherwise you'll look back and see mistakes that you wish you were able to fix.
Decide your publication route
It is worth considering how you want to be published early in the process. If you want a traditional publishing contract you can make your submissions before the book is complete and if you are seeking partnership or self-publishing options you can start to see what the options are and work out the costs.
Get help and support
Only you can write your book but that doesn't mean you have to go it alone. There are online communities for aspiring authors and plenty of tools and resources out there. Never be afraid to ask!
If you have dreams of writing a book and need some expert help, contact Creative Words to find out about our Author Packages.
https://www.creativewords.cc/wp-content/uploads/2019/03/BlogHeader_WritingABookSeries_Blog6_FINAL.png
315
560
The Content Alchemist
https://www.creativewords.cc/wp-content/uploads/2022/07/CW-LOGO-R-Landscape-White-300x128.png
The Content Alchemist
2019-03-20 13:00:38
2019-03-20 13:00:38
Getting organised to write your masterpiece