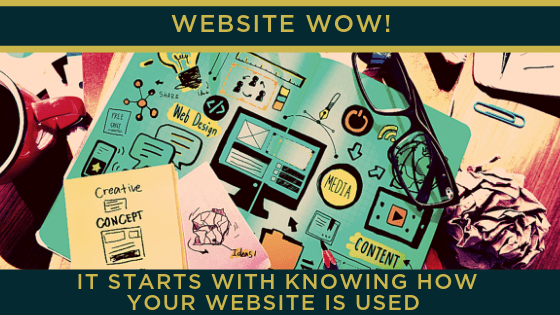 It starts with knowing how your website is used
Having a website is seen as a business essential these days. One of the first steps in setting up a new business is to get a website domain (which also gives you an email address) which is right for the business. I've known plenty of people who even name their business based on which web domains are available at an affordable price. And, once you have the URL it is rather expected that there will be a website sitting at the end of it.
I'm not going to argue with that. Sites are so ubiquitous that to not have one would make people wonder if your business actually exists.
Having a website is one thing. Having the right content on your website is quite another. [1]
Whether you are setting up a brand-new website or revisiting an existing site, this series of blogs will give you some hints and tips on creating that content.
Creating the right impression
At the end of the day, when someone visits your website, you want them to like what they see and get a 'warm and fuzzy' reaction to your site.
That means that it is really important for you to understand a few absolute fundamentals of your website and its purpose.
Are you thinking that exploring the purpose of your website seems a bit pointless? "Surely it is to create an online presence for my business."
Very true.
But…
What for?
It matters to understand your potential visitors and how they find your website, to know what kind of online presence you need to have.
Let me elaborate on that with a couple of examples.
The local business with competition in the area
Suppose you are an accountant in Bognor Regis. There are several in the area. People decide on an accountant by going to a search engine and typing 'accountants in Bognor Regis.'
You web content needs to make sure your firm comes high up in the list of results and, when someone visits the site, the home page needs to be really clear why your accountancy is different from the others in the area.
The unusual product or service
I consider Creative Words to sit in this category. People don't find my website from a search engine. No one searches for 'Content Alchemy.' They visit my site because they have met one of the team or been recommended, or come across something on social media, or one of my blogs has come up in a search.
The website is a second step – which means the site needs to be explaining what the unusual product or service can do for them.
The online shop
If the main purpose of your website is to sell something, visitors come because they searched for the product (rather than for your business). It means your web content needs to be different again and, probably, to not bother with a home page which explains who you are. Your visitor came to buy something, so the online shop needs to be where they get to first so they can do just that.
Once you know the purpose the rest will follow
These are just a couple of examples of course. There are plenty of other reasons someone comes to a website. My advice is that you spend a bit of time thinking about why someone might come to your site. Know this and it will help you work out everything else.
Creative Words offers a range of web content services to fit any small business budget. Contact us to arrange a call.
[1] Just to be clear, I don't intend to get into the technical aspects of creating a website. It isn't my area of expertise and I wouldn't presume to advise you. There are lots of ways to get the site created – from DIY to bespoke web development – and I know people who can help you with either.
https://www.creativewords.cc/wp-content/uploads/2019/04/BlogHeader_WebsiteWow_Blog1_FINAL.png
315
560
The Content Alchemist
https://www.creativewords.cc/wp-content/uploads/2022/07/CW-LOGO-R-Landscape-White-300x128.png
The Content Alchemist
2019-04-03 13:00:58
2019-04-03 13:00:58
It starts with knowing how your website is used