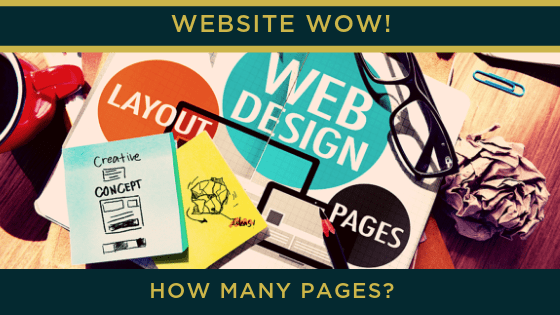 This is one of those 'How long is a piece of string?' types of question.
It is, however, something that deserves a bit of thought.
Once you have given some thought to how your website is found and used you'll be able to start planning out your site with that in mind.
Work it out based on the journey you want them to have as they explore your site.
Inevitably, they will start at your home page. What will they need next? Read a blog? Buy a product? Book a call? That helps you to plan what you most need.
Beyond that, here are a few hints and tips to help you:
1. Go live as soon as you can.
I'm often told, "My website isn't live because all the pages aren't ready."
My view is that you are better getting live when you have one page – even if all it has on it is your email and phone number and a short friendly message such as "This site is under construction. If you'd like to know more about xxxx please email us at xxx@xxx.co.uk"
At least you are catching anyone who is looking for you (plus, if you are a new business, it means you can get business cards sorted and you can start giving them out).
2. Add as you go
This is the corollary to point one. You can add new pages gradually as you go along, setting each page live once you are happy with it.
There are certain things you have to do quickly – such as a privacy policy, for example, so here is a suggested order:
Home page
Privacy Policy (you are required to provide this – but there are plenty of helpful template versions available)
About
Products/Services
Testimonials
3. Take a 'top down' approach
There are a few pages that everyone should have but, to get information out to people in the best way, it is worth starting with all the summary pages. For example, if you offer a range of services just do a single page explaining them all at a simple level (one short paragraph per service). Then do your first 'About' page (two sentences on the business, a phone number and contact email).
Only then do you go back and start creating the detail about each service and more in-depth pages below the 'About' page (Meet the team, Frequently asked questions, etc).
4. Don't go mad!
I can't tell you how many sites I've seen which have so many pages no one could ever read them. Your average visitor is unlikely to want to wade through pages and pages of technical data and long complicated explanations of your services. Keep pages to under 500 words (less if you can) and write them so that your ideal customer can understand enough to want to take the next step.
By following these four steps, your website is going to be ready to start getting to work for you sooner rather than later.
Creative Words offers a range of web content services to fit any small business budget. Contact us to arrange a call.
https://www.creativewords.cc/wp-content/uploads/2019/04/BlogHeader_WebsiteWow_Blog2_FINAL.png
315
560
The Content Alchemist
https://www.creativewords.cc/wp-content/uploads/2022/07/CW-LOGO-R-Landscape-White-300x128.png
The Content Alchemist
2019-04-17 13:00:10
2019-04-17 13:00:10
How many pages?