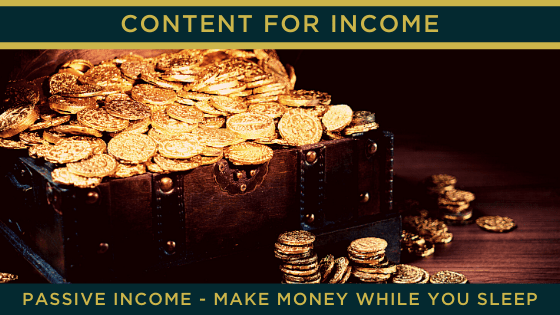 Passive Income – make money while you sleep
"Make money while you sleep" is how passive income streams are generally marketed these days.
Sounds like a very attractive prospect doesn't it, and how hard can it be? Surely if so many people are doing it, it must be simple right?!
Simple – yes. But don't be fooled because simple doesn't mean effortless.
So, what does it take?
Creative Words provides content alchemy. We transform our client's material into gold – and we often do it by helping coaches, trainers and consultants repurpose their content into online membership services, e-Learning and via books and podcasts.
We know what it takes to bring brilliant content to a global audience, to keep members engaged and to do it month after month. Only when you have all these pieces worked out and in place, will you be able to make money while you sleep. Until then, without a good plan and some expert help, it can cause sleepless nights instead!
Over the next few blogs I'm going to cover some of the key considerations if you're contemplating taking your content online and want to get some sleep in the meantime!
Ideas for passive income
As I alluded to earlier, there are a number of ways to create passive "earn while you sleep" income from your business.
Let's take a brief look at some of these now…
Books
So many people tell me they'd love to write a book but either don't know what to share or don't believe they're a good enough writer to do it.
In reality anyone with insights to share or a personal or imaginary story to tell can write a book. And, if you don't want to do the legwork of writing it yourself, then create your masterpiece with a ghost writer. At Creative Words we ghost write with many clients, which is a fun and collaborative experience for us all.
Online Memberships
Online membership programs are perfect for all types of coaches who are looking to expand their reach.
The idea behind online memberships is to put the materials you already deliver in your 1:1 or small group workshops online and then roll that content out over a period of months via one central members hub.
Training and workshops
These are a great way to serve more than one person at a time. With the wealth of technology at our fingertips now, it's as easy to run them online as it is in a physical classroom.
If you record your training and workshops on video or audio, you create the opportunity to sell these recordings online or repurpose the content into an online membership.
Speaking and Events
This is the perfect way to share your knowledge with a really large audience in one hit, and you can even open things up further by live streaming them worldwide.
As with training and workshops, record these events for resale and repurposing.
Templates and kits
The "done-for-you" market is rapidly growing. Many business owners either don't know how, or don't have the time to create everything their business needs from scratch.
Templates and kits can cover anything from providing editable visuals, to shortcuts on processes and tech set up.
Stay tuned as we explore each of these opportunities in more detail over the coming weeks.
If passive income is something you're interested in exploring and would like our expert help, book a free content review call and we'll chat through options that can work well for you.
https://www.creativewords.cc/wp-content/uploads/2020/06/BlogHeader_ContentForIncome_Blog01.png
315
560
The Content Alchemist
https://www.creativewords.cc/wp-content/uploads/2022/07/CW-LOGO-R-Landscape-White-300x128.png
The Content Alchemist
2020-07-01 13:00:00
2023-11-16 01:45:00
Passive Income – make money while you sleep