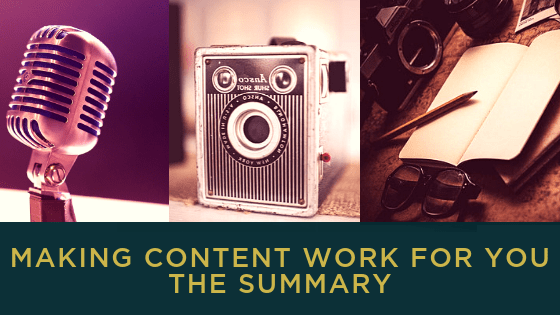 Making content work for you – the summary
We've reached the end of my latest blog series- Make Content Work for You. So let's have a brief recap of the things we've covered to bring together everything you've learned.
Content is not one big amorphous blob.
Content is anything which adds value to the audience, and as a result there are a number of different types of content.
Written content is non-intrusive and portable but takes a fair amount of time to develop and can't be accessed on the fly.
Visuals, such as photos, drawings or infographics can tell a story instantly and can easily be used to enhance written content. On the downside finding the right image can be a challenge and visuals rarely stand alone.
Audio content (such as podcasts) is great for the traveller and allows your real voice to shine through, but it can be expensive and difficult to start producing audio content, especially if you're new to it.
Video content is extremely popular and also allows you to showcase your real self to your customers, but doing so can be a bit of a double-edged-sword. Like audio, it can require some investment and technical know-how to get started.
Face-to-face interaction in the form of networking, presentations or meetings are a great way to get to know your clients and have a two-way interaction so you can help them best. However, this can also be more nerve wracking and take more time to set up.
Unblocking the blocks
Once you know about the types of content you can produce, it's time to focus on breaking down the barriers that get in your way of content.
For a start, you need to find out what you have to offer. You definitely have some value to give to your audience, let your skill set be your source of content. Remember, you're in business because you have value to offer, let your content show that.
Time is a common blocker to content, make sure to get help when you need it and to value your own time. Always keep in mind that your time has value, don't undersell that.
Perfectionism can get in your way but remember that perfection isn't always necessary. Try to keep your level of perfection proportional to the lifespan of the content.
Finally, keep your personal preferences in mind: if the idea of livestreaming terrifies you, don't start with it. Experiment with a range of content by all means, but build your confidence slowly, by starting with formats with which you're already comfortable.
If you fail to plan….
…you plan to fail! So develop a content plan and refine it regularly. Always consider your target audience, thinking about what value you can bring to them. Know who you're writing for and don't be afraid to ask potential audiences about what they'd like to see.
Set themes around which you can base your content for a certain time period then divide it up into different key ideas for smaller chunks of content within that series. Outline everything in advance but be realistic about how much you can do.
I follow all my own advice:
I regularly produce blogs, livestreams, newsletters and more for my business. By linking content of various formats together, basing all my content in a series around a set topic and making good use of my time, I'm able to keep up a consistent stream of content that keeps me happy and my audience engaged.
https://www.creativewords.cc/wp-content/uploads/2018/10/BlogHeader_MakingContentWorkForYou_TheSummary_V3.png
315
560
The Content Alchemist
https://www.creativewords.cc/wp-content/uploads/2022/07/CW-LOGO-R-Landscape-White-300x128.png
The Content Alchemist
2018-10-03 13:30:40
2018-10-03 13:30:40
Making content work for you – the summary