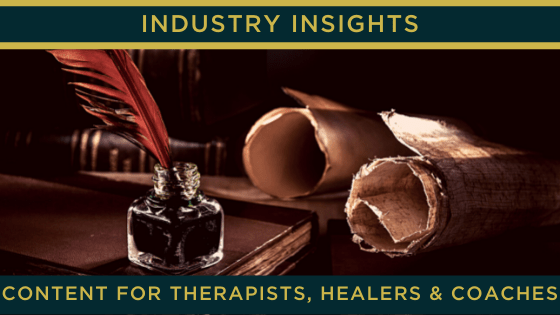 Creating content for therapists and healers which shows you in your best light
A content marketing strategy might be the last thing on your mind as a therapist or healer. But how to attract clients? In an increasingly crowded arena, having a voice that stands out is more important than ever to keep your practice working for you.
Not only does regular content attract new clients to your business, it can also help you focus on what you want your unique offering to be.
What is your content saying about you?
Are you having the issue of getting clients in fits and starts? Have a glut of appointments one week, then sitting twiddling your thumbs the next? It might mean you are offering a wide range of services, but are you raising enough awareness about it? Often, when content output is sporadic, future clients might not be able to find you easily. If you're not taking the time to reach out to potential as well as existing clients, you run the risk of losing the interest of both.
As well as websites and leaflets there are specialist directories where you can upload your details. Many people start at there to find reputable therapists.
Networking, also, is a great way to raise awareness of your skills. Many networking groups come with the added bonus of a referrals system, where others can refer you to people who are hunting for a therapist with your particular specialism.
Avoid these marketing mistakes
Advertising Standards Agency rules mean you can't claim to 'treat' or 'heal' any of your clients, which often therapists interpret as not being able claim any benefit at all. But don't be put off. You can say what benefits you can offer without breaking any rules. If you are a counsellor, for instance, you can say how you will help to work through your client's issues. If you are a massage therapist, you can say how your methods can help relieve pain.
A common mistake some therapists make is focusing heavily on the service you offer. So, if you are a Reiki healer, focussing on that alone will only attract people who know what Reiki is and how it can help. But if you are more outcome focussed – you talk or write about alternative therapy for pain, stress and anxiety-  you'll attract people who need help with those issues.
Take action on your content
My top tips for therapists would be to have a range of marketing strategies that focus on results. Case stories work well and don't have to be labour intensive. Anonymised stories of the benefits clients have gained can be invaluable. Video testimonials and interviews to upload to social media and your website are also great ways to get your business exposure. People are more likely to watch a video than read a long article.
But for those that want facts and figures, summaries of from latest research broken down for the audience is a great way to show you are up to date on the latest findings.
I'd highly recommend having your details as many relevant directories as possible but do remember to make sure you fill all the categories fully (it's dull but worth it). It makes you easier to find. Investing the time in getting the entry just right will pay dividends. And make sure the language is tuned to the audience and check your entries regularly.
Most importantly, I always advise the clients we write for focus on the benefit of your offer. People are not necessarily buying a therapy, they are looking for a solution to their problem, whether it's freedom from their back pain, an understanding person to talk their issues through with or a solution to fertility issues.
If you'd like to know more about how to market your therapy business for maximum benefit, contact Creative Words today for a FREE content review.
https://www.creativewords.cc/wp-content/uploads/2022/04/BlogHeader_IndustryInsightsSeries_Blog02-2.png
315
560
The Content Alchemist
https://www.creativewords.cc/wp-content/uploads/2022/07/CW-LOGO-R-Landscape-White-300x128.png
The Content Alchemist
2022-04-11 19:18:14
2023-11-16 01:14:11
Creating content for therapists and healers which shows you in your best light