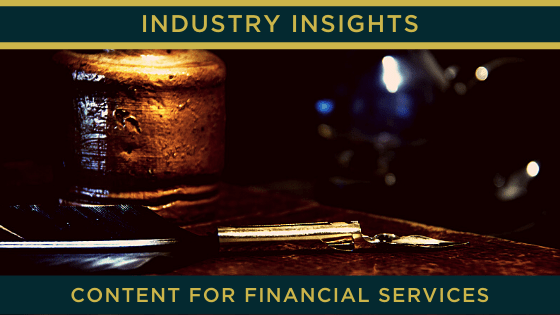 Creating Content for Financial Services without baffling your audience
We Brits make money a complicated and sensitive topic, don't we? It's deemed rude to talk about it (especially how much you earn!) and many people don't like to admit that we don't understand it. Regulations, especially for businesses, make it even more baffling to us.
The last time I took financial advice, I was interested to find out the result of the review. The documents I received were a real surprise – 15 pages of small print, and this was because of the regulations!
It seems much more sensitive in these present times too. Many people have had to go through a lean period because of the pandemic, and financial worries are close to the surface when we're bound by restrictions. Because of this, it's the perfect time for independent financial and mortgage advisors, accountants and insurance and pension providers to review and refresh their marketing content.
Setting out your stall
For any website to be a showcase of what your business does, consistency and relevancy are the two main things you need to consider. It's no good putting content on there, or even sending out newsletters, in fits and starts. People want advice throughout the year, so making sure you appear up to date and ready to advise is vital. Think of something that you expect regularly, say a favourite podcast that is published every Friday. It drops into wherever you listen to your podcasts the same time every week. But then it doesn't. I know, it's not the end of the world, but podcasters will soon be forgotten if they are not consistent, and so will you.
I get it, you're busy doing your job. But regular engaging and relevant content on your website makes all the difference to gaining, and keeping, customers. And don't forget, impress one client and they will have no qualms in recommending you to family and friends (especially if you ask them to as a call to action).
Catching your customers' eye
A common pitfall that some advisors get caught in is only talking about the products they deal with. For example, you might list all the mortgages you deal with rather than the outcome, in this case a new home. It's a rare customer that finds mortgages fun. Most want to think about what your financial advice means to them. It could mean a new home, a protected future or a secure business.
Another pitfall is forgetting that, if people are daunted by money, they'll be even more daunted by 15 pages of terms and conditions and hours of information gathering. You know your business; you are the experts. But your customers aren't, and that's why they come to you. Keep it simple and easily digestible. If you're writing a blog on a tricky subject, consider writing a series of blogs that breaks it down into bitesize chunks. This not only makes it simple for people to read, it also keeps them engaged with you, and not your competitors.
Let your financial services content work for you
It's very simple really. Make any information that you pass onto customer easy to understand. It might be newsletters or blogs that you have in mind, but equally the information you have on your products needs to be understandable too. Of course, you can't exclude the terms and conditions, but you can make it really clear what is what. Use design, colours and clear visual indicators to help customers navigate the information.
For marketing, keep your mind and your content focussed on outcomes. Offer your customers peace of mind, a new home, financial security, a happy retirement. People don't always know what they need, but generally, they'll know what they want.
If writing content is baffling to you and you need some advice from the experts, get in touch Creative Words for a FREE content review.
https://www.creativewords.cc/wp-content/uploads/2022/03/BlogHeader_IndustryInsightsSeries_Blog01.png
315
560
The Content Alchemist
https://www.creativewords.cc/wp-content/uploads/2022/07/CW-LOGO-R-Landscape-White-300x128.png
The Content Alchemist
2022-03-05 22:32:59
2023-11-16 01:16:36
Creating Content for Financial Services without baffling your audience