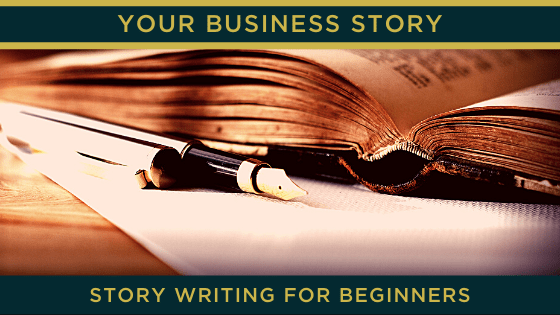 Story writing for beginners
When it comes to story writing, according to Nigel Watts in his book, 'Writing a Novel and Getting it Published', there are 8 key stages to a great story.
You may be looking at this and wondering how this relates to your business but, as you'll see, this gives you a helpful template from which to hang any story – including that of your business.
Stage 1: Stasis
This first stage is all about setting the scene before the story begins.
Stasis is where most of the characterisation of your story needs to happen. Who were you before you started your business? What was your life like? Who were the main people influencing your life at that time?
Think also about the time and place where your story begins.
Stage 2: Trigger
During the course of our lives there are certain events or situations that push us into making changes.
When it comes to your business it's no different. What was it that made you strike out on your own and start your own business?
Stage 3: The Quest
In every great story there is a quest and in this instance the quest is the journey of growing your business.
Lay out the path that you walked to take your business from a concept into building it into what it is today.
Stage 4: The Surprise
We all know that no great journey comes without its ups and downs and twists and turns! There are always surprises along the way, so share some of the obstacles and complications you've had to overcome and the learnings and growth you've received from those situations.
Stage 5: Critical Choices
At some point in your business journey, you will have made a ground-breaking decision that changed the course of your business and moved it forward in a big way. What was that decision? Why did you have to make it at that time?
Stage 6: The Climax
In every great story there's a climactic point that everything builds too. This will be focused on the ground-breaking decision you've taken in your business, and the highest point of revelation that this decision brought you to.
Stage 7: The Reversal
The critical choices you make will always have consequences because ultimately they change the direction your business is going in. Share how things changed and how you implemented that change in a positive way to move your business forward.
Stage 8: The Resolution
Your story comes to an end with where you are today. This is the point that your journey has brought you to – what does the landscape look like now, and what does the future hold?
Cate's story
Here's an overview of these 8 stages using Cate's story as an example.
(Stasis) Before starting Creative Words, Cate was a management consultant, but she'd always wanted to be a writer.
(Trigger) Then one day someone asked, "What's stopping you?" and she quit her job to start her writing business.
(Quest) To begin with Cate planned to focus her business entirely on being a copywriter.
(Surprise) However she quickly realised that she was writing content that was just left sitting in people's inboxes because business owners were too busy to set it up.
(Critical choice) Cate saw an opportunity to support clients beyond just copywriting and started to offer additional services that included content set up and sharing content with her client's audiences.
(Climax) From there the business continued to grow and the idea of the alchemy packages was born.
(Reversal) Our alchemy packages help so many of our clients. With their monthly bundle of hours, they always have access to the content they need, when they need it.
(Resolution) Now, with a team of writers, there's no limit to the content gold Creative Words can create for others.
As you can see, the framework that these stages provide, helps you to build a full picture that takes your audience on a journey with you. This framework can be used to create stories of varying lengths, from a short bio to a full history of your business.
If you'd like support with defining the different stages of your business journey, book in for a free content review. We can look at your story together so you can understand how to share it in the most impactful way possible.
https://www.creativewords.cc/wp-content/uploads/2022/02/BlogHeader_YourBusinessStory_Blog07.png
315
560
The Content Alchemist
https://www.creativewords.cc/wp-content/uploads/2022/07/CW-LOGO-R-Landscape-White-300x128.png
The Content Alchemist
2022-02-04 14:37:19
2023-11-16 01:18:28
Story writing for beginners