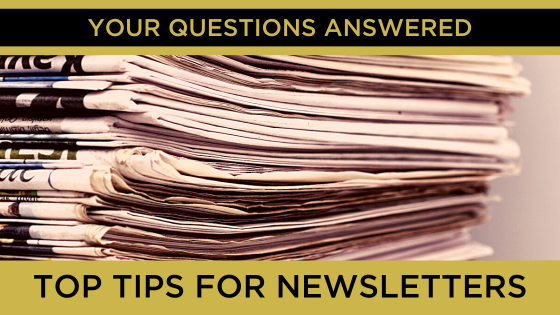 Newsletters are the cornerstone of email marketing. A regular update to clients, staff and other interested contacts makes sure you remain in mind and are adding value on a regular basis.
If this is something you are planning to do as part of your marketing strategy here are some top tips to make sure it has the desired effect.
Have a newsletter!
It sounds a bit obvious but if you have contacts you want to remember you. Whether they are past customers who you want to come back, clients to whom you want to provide additional value, potential clients who need to know more before they make a choice or a wider audience with whom you want to build a relationship, a newsletter is a great tool to use. It is more personal and targeted than social media posting and not as time consuming as telephone follow up. So add it to your marketing mix.
Know your audience
This is a top tip for any content. Make sure you know who you want reading your newsletter, what would be valuable to them and what action you want them to take from reading your newsletter. Then craft your newsletter for them. There may be other subscribers on your list and that's fine but you don't need to try and please everyone – just write for your target audience.
Set the frequency of your newsletters
Sending a regular newsletter means making a time commitment to create content on a regular basis. Set a frequency for the newsletter which you can sustain and which your audience will tolerate.
There is no point in announcing that you'll send a weekly newsletter and then find you are struggling to find the time for it so it becomes inconsistent.
Similarly, weekly content might be more than your audience wants and too much content can lead to them unsubscribing from your list.
Think about when your newsletter is going to be sent too. Are your audience more likely to open it during the working week, or on a Saturday afternoon? Even the most basic emailing tools can schedule your newsletter to go out at the most advantageous time.
Invite signup via other channels
If you send a regular newsletter, make sure everyone knows and can sign up for it. Have a button on your website, a link in all your social media profiles, a link in your email footer…
You never know where subscribers will come from and who might find your content of interest so make it as easy for them as possible.
Email vs LinkedIn newsletters
LinkedIn newsletters are on the rise so can be a great tool. If you are a regular LinkedIn user with an audience already consuming content you post, then putting your newsletter there is worth doing (there are some specific settings you need to have for this). If your audience is on a mailing list, then stick with email. There's nothing wrong with doing both if you have an active audience in both mediums.
Have a regular shape to newsletters
Give your newsletter a structure so you know what you need to include. The Creative Words newsletter always follows this pattern
Link to blog
Client news or testimonial
Upcoming offers or events
Call to action
Added value vs sales and offers
Be clear on what you want your newsletter to offer and in what proportions. Look at other regular emails to see how others do this and then you can decide what will work for you.
Many E-commerce companies, for example, focus heavily on offers (10% off your next order) and link-selling (get a free hairbrush with your next order over £50). This is effective for product sales – and most people love a bargain. Usually, they are short messages, sent frequently.
If you want to deliver a different kind of value to your customers, you may want to consider insights, fascinating facts, and news about your team. This builds a relationship with customers and is better for longer lasting customers. Look at the 'Who Gives a Crap' newsletter for example. They sell eco-friendly toilet paper, and their newsletter is packed with fun things to do with toilet rolls and news about the team and their antics. It is really showing their values and growing brand loyalty.
Reuse content
Don't feel your newsletter always has to be brand new content. It could work just as well as a round up of other content you've published elsewhere. Our various newsletter clients include videos from YouTube channels, testimonials from the website, top tips from online courses and advice on products from care leaflets. Make your life easier by resharing content that your audience may have missed or forgotten from other times and places.
Look at your results
Whether you are using an email tool, LinkedIn newsletters or both, it should be able to get some basic information on how well your newsletter is received. How many people opened it? And followed on a link to more content? Which links do best? And how many people unsubscribed? These will all tell you something that you can then use to improve the newsletter over time.
If you'd like help with regular newsletters to add value to your contacts, contact us to arrange a conversation.
https://www.creativewords.cc/wp-content/uploads/2023/11/CW_WordPress_BlogHeader_YourQuestionsAnswered_560x315.png
315
560
The Content Alchemist
https://www.creativewords.cc/wp-content/uploads/2022/07/CW-LOGO-R-Landscape-White-300x128.png
The Content Alchemist
2023-11-08 22:56:15
2023-11-09 22:56:49
Top tips for newsletters