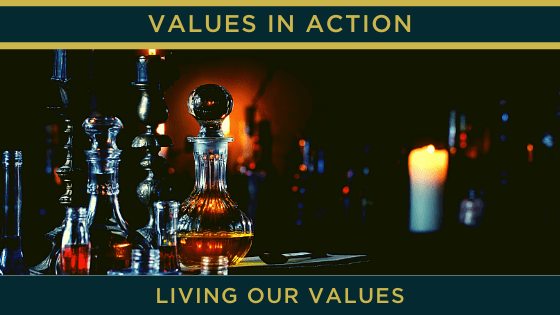 Did you know that over 80% of people make a buying decision based on the values of an organization? That's a lot of people!
While your sharp well written sales copy will bring customers in, when faced with a choice between you and your competitors, an alignment with a company's values is often the deciding factor for where people ultimately spend their money.
Are you clear on what your values are? If you are, great, but having them written down isn't enough! You need to demonstrate that you actually live up to them in every area of your business.
So, what about us – do we practice what we preach?
Living our values
At Creative Words we work according to a set of five values that we feel really strongly about. They're aimed at creating freedom: for our clients, our team and for the wider world, and we embody them in everything we do.
1: Be the gift of time
This one's a double whammy because as well as being one of our values, it's also our vision. Everything we do is intended to give our clients time to focus on the work that's in their zone of genius and leave us to worry about their content.
2: Do right by our clients
As every business owner knows, it's very easy to do work for work's sake. That's not what we want to do at Creative Words though. We want to do right by our clients, so if we don't think we can help, or if now isn't the right time, we'll say so.
Earning and retaining our clients trust is vitally important to us, so if we make a mistake we'll own up to it and do what we can to put it right.
We always want to help our clients' businesses thrive, so if we see other opportunities or can make other connections for them, we will.
3: Our people are more important than profit
People come first. Always. We'll always do what we can to deliver great work for our clients, but every member of our team is a human being first and foremost and deserves to be treated with respect. We respect their entitlement to holidays, to work reasonable hours and to take time-off when they're sick or facing a family crisis.
4: Create something wonderful
Content Alchemy is about transformation and creating content gold. This not only means money for our clients, but also that the content we create for them is bespoke, personal and authentic to who they are.
It may take a little longer and cost a little more, but honestly, we feel it's worth it. We want our clients' brilliance to shine brightly in a world of hasty, and somewhat dull content.
5: Make a difference to the world
The world is full of people who aren't as fortunate as we are. We have an environment that's under threat and too many people seeking 'quick fixes' and instant results.
At Creative Words we believe the world can be better and we do what we can to make it that way. We don't compromise on our values and we won't work with people who disregard the environment or seek to manipulate people to their own end.
We're also proud to partner with B1G1 and be a 'Business for Good'. This means that every time we transform our client's material into content gold, something wonderful happens to help those who most need it in the world.
This series isn't going to be about how you express your values – that must come from your heart. What we want to show you is how we live by our own values, and we hope this will inspire you on your own values-lead journey.
If you'd like to learn more about us and how we live our values and can help you do the same, book an exploratory call – we'd love to connect with you.
https://www.creativewords.cc/wp-content/uploads/2021/01/BlogHeader_ValuesInAction_Blog01.png
315
560
The Content Alchemist
https://www.creativewords.cc/wp-content/uploads/2022/07/CW-LOGO-R-Landscape-White-300x128.png
The Content Alchemist
2021-01-13 01:23:38
2021-01-13 01:23:38
How We Live Our Values