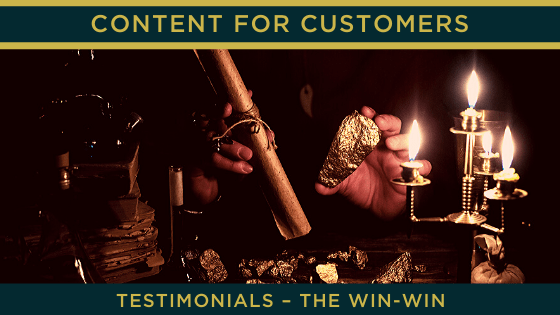 Testimonials – the win-win
Okay. I know what you are thinking: "Testimonials? For Customer engagement? Surely a testimonial is marketing?"
For you and your business – yes it is!
But it's also so much more than that.
The power of testimonials
There's a huge win-win for both you and your customers when it comes to giving and receiving testimonials.
Firstly, it gives you the opportunity to reconnect with a customer again. You can ask them questions such as, "Before we helped you, what was life like?", which reminds them why you were so amazing and why they made an investment with you.
You learn a lot too. The things your customer most values might surprise you and give you a whole new perspective on what your Unique Selling Points (USP) really are.
As well as helping your business, their testimonial also raises their profile too when it's shared on your website and through your social media channels. Plus, you're also showing all your other customers your services or products from a different and unbiased perspective.
How to request a testimonial
The quickest and most effective way is to simply pick up the phone and ask. I recommend you don't email – inboxes are busy and, with the best will in the world, your customer might think, "Oh yes I'll do that", but if they don't do it immediately the likelihood is they'll then forget.
When you pick up the phone and speak with them directly, you're providing a personal touch and can chat through the process and reassure them of anything that might be a point of resistance for them.
Things to consider
Some other things you'll want to consider when asking for a testimonial are…
Make it easy – remember not everyone knows what a testimonial needs to cover, so ask your customer to answer specific questions to help them out
Think about the medium – have a variety of different mediums available for gathering testimonials
Video is powerful – but some people will be resistant to it. The interview style is really helpful here, since your customer won't need a script. It's really just a chat that you record. Take a look at this example with my client Katharine Ellis – it was done this way and then edited.
Audio works well – quite an interesting and unique way is to show images of your products along with a voiceover of the testimonial
Written is good too – you can interview your customer and then write up their answers into a testimonial yourself
Prepare in advance – sending your customer questions ahead of your call will help them to prepare what they'd like to say, giving them more peace of mind
Book a date – we're all busy and prioritise our time differently, so scheduling a time to do this with your customer ensures it will happen
Get their approval – if you've interviewed your customer and written up their testimonial yourself, ensure you send it to them for their final approval before it's used
Thank them – having given their time to support you it's important to show your gratitude. A little thank you note, or a small gift goes a long way to letting your customer know you appreciate what they've done for you.
Share their testimonial – every time you share their testimonial tag them and thank them again. Include a link to their website if they have one, as this helps with their SEO as well as yours.
As you can see there are a number of things to consider here. The main priority though is to always look for a way to make this a win-win for both you and your customer and make providing a testimonial as quick and easy as possible for them.
If crafting your questions or finding the time to gather great testimonials is something you find challenging, get in touch, as this is a service that we can provide for you.
https://www.creativewords.cc/wp-content/uploads/2020/02/BlogHeader_ContentForCustomers_Blog06.png
315
560
The Content Alchemist
https://www.creativewords.cc/wp-content/uploads/2022/07/CW-LOGO-R-Landscape-White-300x128.png
The Content Alchemist
2020-03-25 13:00:16
2020-03-25 13:00:16
Testimonials – the win-win