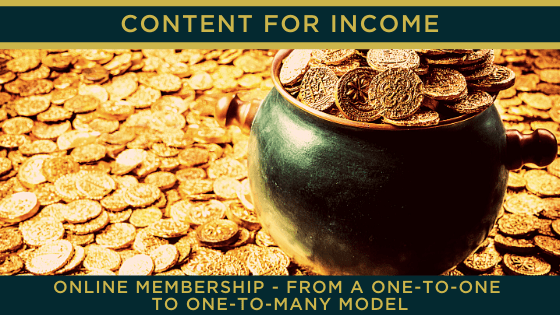 Online membership – From a one-to-one to one-to-many model
If you're looking to move from a 1:1 to 1: many model, online memberships are a great option to explore.
To be clear – online training and online memberships are provided on the same or similar platforms; the difference lies in the outcome you're looking for and how people pay you.
Payment for online memberships are usually monthly, though you might also like to offer an annual payment that's at a slightly reduced price. Monthly or annual payments are processed automatically, and the member needs to contact you to advise if they want to cancel their membership. Training (which we'll cover in another blog) is usually a one-time payment.
What is an online membership?
Online memberships can be anything from providing content and tools, personal development ideas, selling products and more. Really, it's anything you can think of that can add consistent value on a monthly basis.
It's helpful to provide your content in a variety of different ways, including things like…
Written content
Videos
Worksheets
Podcasts
Masterclasses
Q&A opportunities
The most important thing is to be really clear on the outcomes you're wanting for your members, and then go all out with ensuring you achieve that.
The sky's the limit with what you can do!
If you have a passion that you know you can create content about on an ongoing basis, then you have the basis for an online membership service.
Here's some examples of online memberships to get your ideas flowing…
Weight loss and fitness – provide online personal training classes, food plans and recipe ideas, food box deliveries with ingredients and recipe cards, accountability partnering with other members, coaching on mindset and motivation, etc.
Serve a hobby – perhaps you have a passion for quilting. Your membership could offer different projects for members to work on at the same time, monthly patterns, discounts on fabrics, quilting tips and tricks, quilted project of the month feature, etc.
Writers club – teach writers how to make an income from their passion, provide tutorials on different styles of writing, run writing competitions, teach how to get in print, monthly support and Q&A sessions, etc.
Parenting circles – share parenting tips, resources, after school activity ideas, creative project ideas, etc.
Build a business

– tools and training on everything you need to start and grow an online business. Monthly masterclasses from experts, training and worksheets covering topics like creating graphics, leveraging social media, setting up podcasts, mastering mindset, etc.
You don't have to go it alone!
If the idea of delivering new and interesting content every month feels impossible and exhausting, then collaborate with other people with relevant skill sets to bring additional value to your members.
Collaborations are such a great way to make new connections and keep things fresh and interesting for your membership community.
Also consider partnering with other businesses via affiliate programs. This is great if you're recommending items your members might like to purchase, on which you can then earn affiliate commission. Some businesses may also be open to providing special discount codes for your members – this is a real bonus for all concerned because your members get a discount, you get your affiliate commission and the partnering business gets the sale, so it's a win-win for everyone!
Getting your online membership out there
There are now lots of platforms to choose from for delivering your online membership. Most expound the benefits, but you need to be aware of the additional marketing you'll need to invest in to create awareness that your membership exists.
Think of all of the ads you see all the time for this kind of thing – this costs, so create yourself a marketing budget. Basically, you need to invest in getting your membership up and running and then 10x that cost for selling it.
For more on creating online memberships, checkout my very first blog series I wrote for Creative Words.
If you think creating an online membership is perfect for you but don't know where to start, book a free content review call and we'll chat through options that can work well for you.
https://www.creativewords.cc/wp-content/uploads/2020/06/BlogHeader_ContentForIncome_Blog03.png
315
560
The Content Alchemist
https://www.creativewords.cc/wp-content/uploads/2022/07/CW-LOGO-R-Landscape-White-300x128.png
The Content Alchemist
2020-09-02 13:00:00
2020-09-02 13:00:00
Online membership – From a one-to-one to one-to-many model