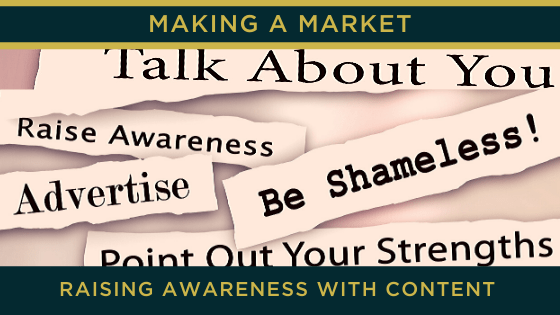 Raising awareness with content
When building a marketing strategy and plan, the first thing you need to do is make people aware that you exist as a business and what you do. I know this might seem obvious, but you'd be surprised how many people just don't give their attention (or enough attention) to this step.
Consider this…
To get us underway, here are some things to consider:
Who is your ideal customer? – who do you need to make aware that your business is alive and kicking and exactly what they're looking for?
Where do your ideal customers 'hang out'? – you need to know where to go to reach and engage with them
Do your ideal customers know they even need you? – sometimes we can be so entrenched in something that we're not aware it's even an issue until it's pointed out to us!
How will you get in front of your ideal customers? – you know who they are, where they hangout and that you have a perfect solution for their problem, but you have to make yourself know to them, they're not going to just miraculously find you!
Now, because your ideal customers aren't yet aware of you, the content you need to consider at this stage tends to need an investment of your time and, in some cases, a little money.
Networking
"Networking isn't content" I hear you say and, you're right, in and of itself the act of networking isn't content. However, what you say while you're networking most definitely is!
From the get-go all the information you share in conversations about your businesses and what you offer is content. Then you get to take centre stage in front of an audience of potential customers for a full 60-seconds to speak directly about what you do and how you can help them.
Never underestimate just how powerful your 60-seconds is for turning on or turning off your ideal customers, so make it as memorable as possible. If aren't sure how to do this, feel free to check out '60-Second Gold', my short training course which guides you through the process of engaging an audience and getting new connections.
Public Relations
Crafting a compelling media story is a great (and free) way to get yourself know and, again, puts you in front of multiple people in one hit.
Take some time to brainstorm ideas for newsworthy stories that local (or even national) media outlets might want to publish. Perhaps the way your business came into being is particularly unusual or inspiring. Maybe you've worked with a prestige client that you'd like to make some noise about (obviously respecting confidentiality). Or perhaps you're involved with a charity fundraiser that you'd like to raise the profile of.
Making yourself available to be interviewed as a local business owner is a great way to position yourself as a leader in your field, even if you're only just starting out. When you share your knowledge via print, people are far more trusting that you know what you're talking about.
Advertising
It's so easy to get carried away in this area and think you need to throw a lot of cash into paid adverts. My advice – start with a small pot of funds and focus on creating amazing content to make your investment work hard for you.
Write content that speaks directly to your ideal customer. Yes, of course you'll work with anyone, BUT you need to make sure you're spending your hard-earned on the people who you really want to work with. Diluting your message to appeal to the masses is a false economy!
Adverts need to focus on your ideal customer's 'pain points' and the solutions you offer that move them from pain to pleasure. Keep it succinct regardless of whether your advertisement is written, image or video.
Review your results carefully so you know what worked and what didn't. What time of the day received the best engagement? Which items got the most click throughs? Make regular adjustments to improve the results.
Now you've let the world know your businesses exist and they're ready and eager to engage with us, THEN what? Tune in for my next blog which will help you focus on this next stage…
In the meantime if you'd like to learn how to generate great content that works beautifully with your marketing strategy, take a look at our online course Demystifying Content.
https://www.creativewords.cc/wp-content/uploads/2019/10/BlogHeader_MakingAMarket_Blog02.png
315
560
The Content Alchemist
https://www.creativewords.cc/wp-content/uploads/2022/07/CW-LOGO-R-Landscape-White-300x128.png
The Content Alchemist
2019-10-30 13:00:19
2019-10-30 13:00:19
Raising awareness with content