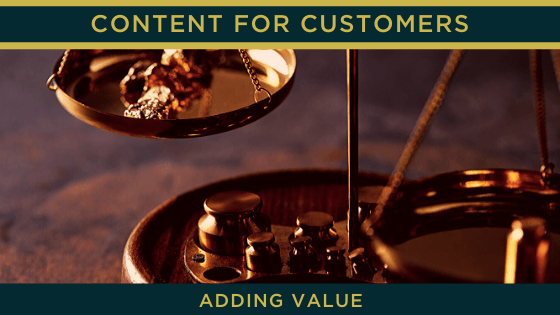 Adding value to your existing customers goes a long way to keeping them happy. For instance, have you ever seen companies who offer new customers a great discount which you – the loyal customer – don't get?
Annoying isn't it!
Your loyal customers should always feel valued above any new customer (it's what keeps them loyal!). So, take care of them by giving them things that no one else gets.
Ways to add value
There are many ways of adding value and really delighting your customers in the process.
For instance, everyone always feels super happy when they're offered a discount! This might be something like buying a second product or service at half price or offering things that are 'evergreen'. If you've never heard of this, an evergreen discount means you raise your prices for new customers but keep them the same for your existing ones.
Delighting your loyal customers
It's time to get your thinking cap on and brainstorm ways that you can go above and beyond to delight your customers.
What kind of things (that are in alignment with your business) can you do for a loyal customer that makes them want to stay that way?
It might be things like…
Free access to an online training course – that's what we do for our customers with our Demystifying Content program
Free copy of a book – either by way of a download or, if you really want to delight them, send a physical copy through the post
Early booking – if you're launching a course, give your customers the opportunity to sign up in a pre-launch window with a super special early-bird discount
Telephone hotline – provide them with an unadvertised phone number to use, so they can connect directly with you or one of your team with any questions or issues they have. You might want to specify a certain window of time in the day when the line is open.
Community – create a private online community where your customers can make connections and interact with each other and you
Networking access – this can come in the form of 'subbing' for you at a networking meeting you attend, inviting them to social events, and so on
Appropriate Christmas gifts – it doesn't have to be big, but definitely needs to be thoughtful and relevant to your business and customers
Donating – if your customer supports a specific charity, you might like to make a cash donation in their honour to support their cause
Offer connections – if you know of other clients or friends who can help them in their business, offer to make an introduction
Interviews – offer to put your customer in front of your audience via a podcast (if you do one), something recorded that you share on your website or maybe a guest blogging spot
That's ten ideas there just off the top of my head. Make some time to sit down and think of some more and who knows what other things you might come up with.
Try to aim to be more than just a supplier of products or services. Think of yourself as being a valued partner to what your customers do, and really help them where you can…now that is adding true value!
If coming up with ideas for ways you can add real value for your customers is something you need support with, then get in touch for a FREE Content Review. You'll receive our expert advice on where and how to improve your customer experience, so your customers feel valued and return time and time again.
https://www.creativewords.cc/wp-content/uploads/2020/02/BlogHeader_ContentForCustomers_Blog05.png
315
560
The Content Alchemist
https://www.creativewords.cc/wp-content/uploads/2022/07/CW-LOGO-R-Landscape-White-300x128.png
The Content Alchemist
2020-03-11 13:00:20
2020-03-11 13:00:20
Adding Value