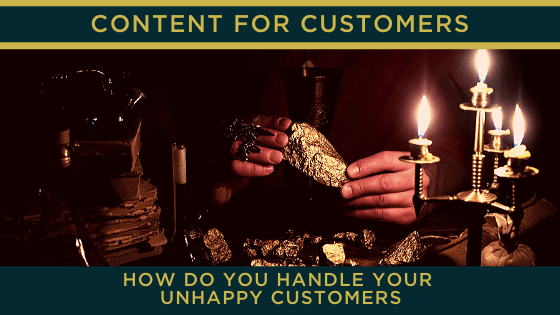 How do you handle your unhappy customers
Whether we like it or not things go wrong – it's a fact of life – but when the proverbial hits the fan, how do you handle your unhappy customers?
Getting this right from the get-go is vital to whether they come back or not. So, let's take a look at some things you'll want to consider if or when you're confronted with this situation.
It's how you handle it that matters
You can turn a negative situation into a positive review based solely on the basis of how you handle the issue.
There are some key things to remember here that will help you take care of every situation in a professional way.
Don't take it personally – I get it, no one likes to be told they're wrong, but if you get in a stew about it, you won't help yourself at all. This is not about you, this is about your unhappy customers, so put yourself aside and focus on them.
Respond promptly – your customer's issue isn't going to go away. Sitting on it only builds the situation into something bigger than it needs to be and creates more frustration for your customer.
Be polite – ALWAYS! Politeness always gets you off on the right foot and allows an open and honest dialogue to take place – being rude or defensive is unlikely to resolve anything.
Say sorry – the saying goes 'the customer is always right' (even when they're not!). Even if you know they're in the wrong, at this point they're not seeing it that way so just saying "I'm sorry that you feel that way", shows that you're ready and willing to listen. (Note – you haven't said 'I'm sorry we got it wrong.' You don't have to apologise for what you have done if you feel they are being unreasonable or if it might leave you liable when you don't deserve it. But they are upset – so be sorry about that).
Be helpful – there's no point adding more fuel to the fire by being difficult!
Understand the real issue behind the complaint – it's your role as the product or service provider to understand and work with your customer to find a solution that feels good for them (and ideally you too). Your aim is to understand your customer's situation enough that you help move them from a pain point into something much more pleasurable. If this is something you either don't know how to do or find a challenge, 'Getting to Yes' is a great book to help with this.
Not all feedback is a request for a refund – before you dive in head-long, pause and actually ask your customer how they would like the situation to be resolved. You might find they have a completely different idea of what they want, so take the time to listen to them first.
Plan ahead
It's really helpful to pre-plan and think about what types of complaints might come up for your unhappy customers, and create some standard replies and approaches so you're ready.
Planning in advance gives you the space and time, from a non-pressurised headspace, to think through as many eventualities as possible, and come up with clear systems for handling complaints should they ever arise. This is also particularly helpful if you work with a team, so you can feel assured everything will be handled in line with your company's values.
It's good to talk
If you're in a position to have direct dialogue with your customers then please do it!
The written word can all to easily be misconstrued. No matter how masterfully you craft a written response it can only be received by your customer from the thinking that they have at that moment, and vice-versa with their written response back to you.
So be brave, pick up the phone and connect with your customer. This gives you both the opportunity to hear each other's tone of voice and what is really being meant (and prepare what you'll say if you get voicemail, so you leave a short message which asks that they give you a call back to resolve matters). Plus, it will also speed up the process of resolving the issue as you can talk everything through in real time, rather than going back and forth via email.
In a fast-paced world where there's so much interaction online, please believe me when I say taking the time to make a personal connection will go a long, long way to turning an unhappy customer into a delighted one!
If crafting some customer complaint scripts that are in line with your business values is something you need support with, then get in touch for a FREE Content Review. You'll receive our expert advice on where and how to improve your customer experience, so your customers feel valued and return time and time again.
https://www.creativewords.cc/wp-content/uploads/2020/02/BlogHeader_ContentForCustomers_Blog04.png
315
560
The Content Alchemist
https://www.creativewords.cc/wp-content/uploads/2022/07/CW-LOGO-R-Landscape-White-300x128.png
The Content Alchemist
2020-02-26 13:00:15
2023-11-16 01:54:58
How do you handle your unhappy customers