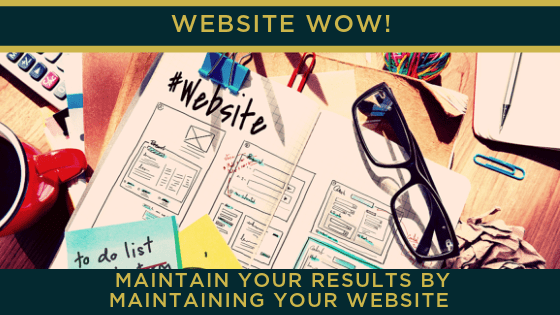 Maintain your results by maintaining your website
Back in the first of this series I gave you a single message:
Website Good!!
This blog also gives you a single message:
Out of date website bad!!!
What happens when someone visits an out of date website?
You probably already know the answer to this one. You've probably done it yourself.
You go to a website and there, on the front page is a 'Buy one get one free' offer with an expiry date of November 2018. You look at this discount that it is a typing error (BOGOF lasting for the next 7 months seems unlikely after all) and think that this business is probably no longer trading. It certainly doesn't have the attention to detail you want.
So you go back to your Google search and pick the next company on the list.
I could go on for hours about the reasons to maintain your site on a regular basis but here are a few good reasons:
As your business changes so do your customers – you may be attracting the wrong kind of customer if your site doesn't reflect the 'new you.'
Search engines prioritise websites which have been recently updated or maintained.
You don't always spot errors when you set up a page – a regular review improves the quality of your pages.
Trading laws constantly change – if you don't keep your website up to date you may just attract a fine (or worse).
Plan to maintain
Keeping your website up to date is critical then if you are to continue to get results from it. Speaking from personal experience though, this won't happen if you leave it to chance. So set yourself a plan which means you give your web pages some attention on a regular basis.
It does not need to be fancy. Here is a simple example: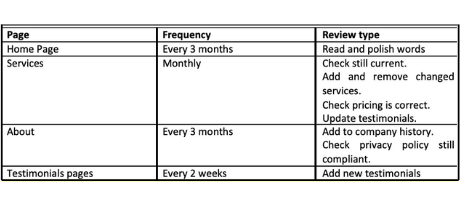 A short amount of time every few months means you never have a massive job to maintain the site and, even if you make a massive shift in the direction of your business, you'll have less work to do to make sure the changes are reflected on your website.
Creative Words offers a range of web content services to fit any small business budget. Contact us to arrange a call.
https://www.creativewords.cc/wp-content/uploads/2019/06/BlogHeader_WebsiteWow_Blog6_FINAL.png
315
560
The Content Alchemist
https://www.creativewords.cc/wp-content/uploads/2022/07/CW-LOGO-R-Landscape-White-300x128.png
The Content Alchemist
2019-06-12 13:00:51
2019-06-12 13:00:51
Maintain your results by maintaining your website