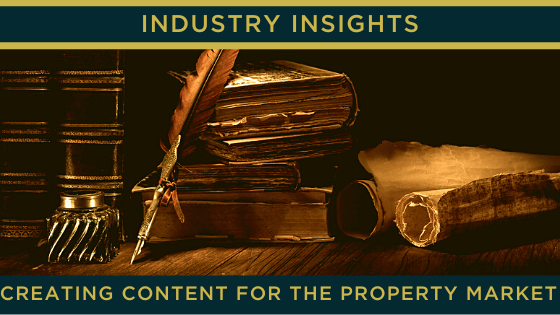 Creating Content for the Property Market
Buying, selling, and moving house is one of the most stressful things that people can do. It's probably one of the main reasons most don't do it often. Many surveys put it as the third most stressful life event; a recent study had it as more stressful than divorce.
That's where you, as estate agents, letting agents and landlords, come in. Your expertise and knowledge help take people through the process of buying, selling, and renting with as much ease as possible. But does your content say as much?
What your content looks like
With the rise of online real estate portals in the last two decades, potential customers will often start their property search on websites like Rightmove and Zoopla, On The Market and Prime Location. Using these portals is essential these days to get you and the houses you are selling and renting in front of the widest possible audience.
Estate agency is an industry with two customers – the buyer or tenant and the seller or landlord.  Each wants the property listing to give them what they need, so it's important that your content speaks to both. You also need to reassure the buyer that you will take care of their interests while getting the best possible price for the seller. It's a fine balancing act that you know too well, so show it off in your content.
Polish your reputation
It seems that the estate agent industry can't rid itself of its tarnished reputation at times. There is a perception still invading people's minds that it is an industry that takes a lot of money but doesn't work very hard to earn it. I think that's because there is a lot of behind the scenes work that takes time, which doesn't often get acknowledged.
So, your content needs to show that what can you offer in the way of transparency, guarantees and service. There's no harm in listing the process on your website and printed material. This will go a long way to reassure customers the hard work and dedication you put towards making the house dreams come true.
Adding value to your content as a property professional
When it comes to adding value to your content, there is plenty you can do. Adding pages on your website that give guides to local areas help the buyer to decide the best location for them and their family. Providing a simple guide to the selling process to sellers goes a long way to reassuring your customers, especially if you explain how, you help and serve both seller and buyer.
If you are a lettings agency, lay out clearly what you do for your landlords and explain why they need you. This can be done by comparing the packages you offer in one easy table.
Lastly, the thing that I would recommend is being transparent with fees. As professionals, we all charge for our services, so why not be up front? It does take courage, but if you are not going to compete on price with your rivals, show your customers why you are different and why they should choose you. Sing your own praises and keep your website, social media, printed material, and your customers, up to date.
If you need help with singing your own praises, contact Creative Words for a FREE content review.
https://www.creativewords.cc/wp-content/uploads/2022/06/BlogHeader_IndustryInsightsSeries_Blog04.png
315
560
The Content Alchemist
https://www.creativewords.cc/wp-content/uploads/2022/07/CW-LOGO-R-Landscape-White-300x128.png
The Content Alchemist
2022-06-14 15:55:52
2023-11-16 01:10:33
Creating Content for the Property Market