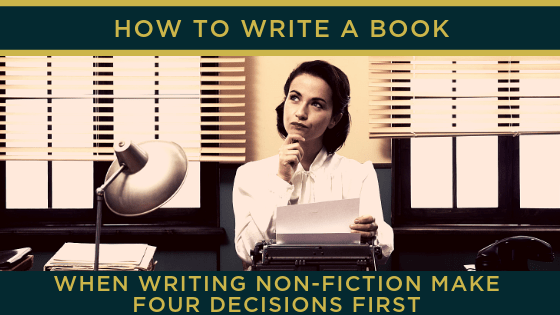 When writing non-fiction make four decisions first
If you have a non-fiction masterpiece within you, dying to get out, it can feel like a challenge. No making stuff up like those lucky fiction types.
No.
You have to make sure everything you say is right!
Well, not quite. Any book you write is from your own perspective so opinion is allowed as well as fact. Your book is unique because it includes your take on the facts and information out there.
Before you begin, however, here are the four areas to consider in planning out your book. These can come in any order – at least one will probably be clear in your mind already.
Audience – who?
Who are you writing the book for? Who do you expect to read it and what sort of people are they.
Get specific here. The more you know about your readers the easier it is to make sure the book works for them.
How old are they? Where do they live? What sorts of jobs do they do? What hobbies do they enjoy?
If you can get to the point where you have a single person in mind (who does not need to be real) you can then write a book aimed specifically at them.
Outcomes – why?
With your ideal reader in mind ask yourself one question. What do I want them to learn from my book?
This is a critical question. Once you know the answer to this, you know the type of book you are going to write.
I want them to be able to service their own car – so you are writing a 'how to' guide
I want them to be inspired by my story – then you are writing an autobiography
I want them to stop using plastics – then you are writing a book on the truth about plastics in the modern world
And so on….
Style – how?
Style for non-fiction is partly about structure – how do you want to organise your chapters – but also about how much of your personality and voice you want to include in the book.
Do you want it to have humour in it? Or for it to be serious? Do you want to put in side-bars and sub-sections to break things out? Do you want to have diagrams and illustrations?
Don't get too hung up on this – as you write, you may well change you mind. One book I ghost wrote recently was reorganised and re-structured several times before we settled on a final style.
Research and References – what, where and when?
What do you need to know in order to write?
An important question, yes?
Here is an even more important one. What don't you need in order to write?
Someone I know has spent so much time researching for a book he is writing, that the book will never be finished. He's been working on it for six years and every time he finds a new fact, he goes back and rewrites.
So, get your facts right, of course, but know when you've got enough to get going.
Once you have these four areas – author, outcomes, style and research – worked out you can make a start!
If you have dreams of writing a book and need some expert help, contact Creative Words to find out about our Author Packages.
https://www.creativewords.cc/wp-content/uploads/2019/02/BlogHeader_WritingABookSeries_Blog3_FINAL.png
315
560
The Content Alchemist
https://www.creativewords.cc/wp-content/uploads/2022/07/CW-LOGO-R-Landscape-White-300x128.png
The Content Alchemist
2019-02-06 13:00:01
2019-02-06 13:00:01
When writing non-fiction make four decisions first