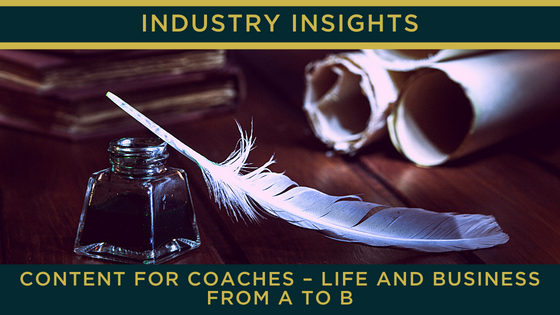 Content for coaches – life and business from A to B
If you follow me on social media, you'll know I love finding out the origins of words and this week I'm writing about content for coaches. So here we go!
The word coach comes from 16th century Hungarian kocsi, meaning "wagon from Kocs". Kocs is a town in Hungary where they first developed a steel-sprung suspension system for a four-wheeled carriage.
But what has that got to do with you helping your clients? Well, the meaning for coach in terms of instructor has its origins in the early 19th century and was used as slang at Oxford University for a tutor who "carries" a student through an exam. The term as an athletic coach came about in the mid-19th century. So, your job is to take someone from where they are to where they want to go. And your experience will tell you, that could be anywhere! So, let's see who we have on our journey together.
The pros and cons of free rides
Let's face it, everyone loves free content! Who can resist the button that says, "download my free guide"? It certainly can help get you noticed and start the journey of working with clients.  Offering free content however can lead to burnout and you being out of pocket for the work you have put into the content. Think about how you can then build on that relationship after people have read your free guide. Free calls and content, while great, take time – and there are (sadly) some people just out for the 'free' advice, so don't let it be the only thing you do.
Coaching client's one-to-one is very rewarding, but it does mean you have a finite capacity and therefore a finite income. Time is your most precious commodity, so you need to protect it and save it where you can. Moving from one-to-one to one-to-many is one route you can take to increase your reach and your earnings. Does what you offer to individual clients translate well into offering it to groups? If so, there are several ways you can work with groups, including face-to-face and online. Recording the content and selling it as a download is an evergreen way to a passive income stream – once you have worked on your offering, no effort has to be made for people to the benefits you offer.
The journey may be long – work on your relationships from the start
We're all relational beings and coaches especially rely on relationships to get business. And because you will be working in relationship with your potential clients, they need to know first off who you are and how you're going to work together. They need to know they can work with you. So how do you go about creating a good working relationship?
The 'discovery call' is often the first point of contact and is a good vehicle for learning about each other. Whether this call is free or for a fixed price, this is the beginning of the relationship. You can tell them how you can help and with the tight questions, they'll be able to tell you what they need.
Getting them to book in a discovery call with you is where your content must excel. Two things you need to include are understanding their problems: "Are you struggling with?" and the benefits of working with you: "Here's how I help…". In your line of work, you'll know every client is different and outcomes can be wide ranging but sticking to the benefit you bring is much more persuasive than a list of what you do (which is either hard to understand or just a bit dull).
And don't forget, on a discovery call you can be more specific about how you can help individual clients.
Actions to make the journey less bumpy
I've talked about what you offer for free, but what about your happy clients? They can offer you a little bit of free content in the shape of testimonials. Let your clients tell your story. Ask them to write or record the benefits they reaped from working with you. The "How" doesn't matter all that much – going in heavy on your unique method would be a turn off! What they care about is that they will be changed.
Lead magnets at the start of the journey are a good way to build a list. When you offer free content, you can ask for their email in exchange and then back this up with a 'nurture' sequence: a series of emails that establish you as an authority to trust. For more added value include an invitation to book the discovery call.
Make your call booking system work for you by adding a quiz to it. And if you don't have a call booking system, stop reading this right now and get one! You will save so much time by not having to ping-pong dates and times between you. Your quiz will sort the wheat from the chaff in terms of who you want to talk to further, so ask questions which will 'qualify' those worth a discovery call. Ask questions that tell you their demographic (if you only work with women, you can cancel calls made by men, for example) and about their willingness to invest. Not a good fit? Politely say so, maybe suggest someone you know who could be a better option, and cancel the call.
Automating the follow up from a discovery call saves you time on chasing potential clients too. If they didn't sign up at once, follow up emails can make a big difference in convincing someone who still needs some convincing.
A mixture of you working to target your ideal clients and automation as persuasion will pay dividends in getting you the clients you really want to work with.
If you like the idea of getting your content in front of the people you want to work with, contact us for a free content review.
https://www.creativewords.cc/wp-content/uploads/2022/09/BlogHeader_IndustryInsightsSeries_Blog06.png
315
560
The Content Alchemist
https://www.creativewords.cc/wp-content/uploads/2022/07/CW-LOGO-R-Landscape-White-300x128.png
The Content Alchemist
2022-09-13 21:46:01
2023-11-16 01:06:27
Content for coaches – life and business from A to B