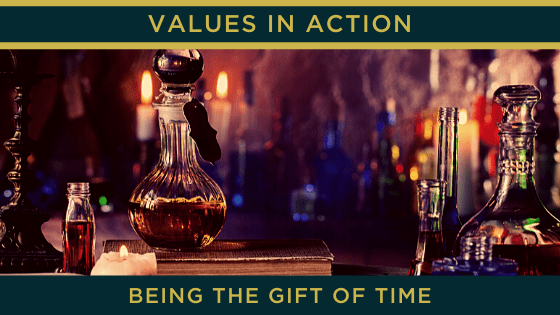 Being the gift of time is not only one of our values, it is our vision too. And, as we celebrate our 4th anniversary, it's as important to us as ever.
Creative Words founder and director, Cate, explains, "The idea of being the gift of time came to me before our other values were formed. In fact, it came before the business itself was formed!
"You see, I've always felt my most fulfilled when I've been in the position of unlocking the potential in other people; being the helping hand, or the sidekick to others' goals and dreams. That was how the idea of 'Gift of Time' came about.
"When Creative Words was being formed, being the gift of time was the idea that came to the fore. From the get-go my vision was always about more than just copywriting. It's about offering a total solution for clients. This means their content isn't just written, it's also reviewed, set up and published, so it never gets stuck in an in-tray."
Everything we do at Creative Words is intended to give clients the time to do the things they're great at, without needing to also worry about content.
When you're running your own business, there's so much to do and so many moving parts to keep on top of. In a big organisation the juggling of all these different things is handled by multiple teams of specialists. But in small or micro businesses, the support of many hands to lighten the load simply isn't there.
How do we give the gift of time?
Every piece of content we create is seen by at least two pairs of expert eyes. This gives our clients total confidence that everything that's released on their behalf is a true reflection of who they are.
We also focus on helping clients to maximise their own use of time. For those who want to move forward but keep getting stuck, some regular accountability can really help. While for others, automating their communications (internal and/or external) might be what's needed.
Let's look at an example of how an automated sequence can make a huge difference when it comes to regaining time.
Richard the Accountant
(Names have been changed to protect the innocent!)
Our client Richard started his own accountancy practice, and his business was growing rapidly. But, for every new client Richard takes on, there's a series of onboarding steps that need to be done that are massively time consuming.
Knowing that something needed to change with his current process, Richard reached out to Creative Words.
Clarity comes from a conversation
Our first step was to spend time talking with Richard so we could understand his current processes. This helped us to form a clear picture of his desired outcome. During our conversation it became very clear to us that Richard and his team would free up a great deal of time by automating their onboarding process.
So, we got to work writing content and then, using Keap Pro, we created an automation system that allowed Richard and his team to:
• Gather initial client data
• Send welcome emails
• Invite clients to book calls
• Notify the team of new clients so they could be added to systems
• Send bookkeeping and VAT return reminders
• Check client data was up to date
• Assign essential team tasks
• Conduct an exit survey if a client or team member chose to move on, for the purpose of learning what could be done better in future
As you can imagine, with a comprehensive automation system like this, a huge burden was lifted off of Richard and his small team. As a result, Richard is now in a position to grow his business more quickly because he's no longer a bottleneck in the sales process.
Working with Creative Words has helped Richard to broaden his content horizons. He's now looking at adding even more value for his clients with articles, white papers and even books!
And Creative Words is right there to help him do it.
If you're struggling to find enough hours in the day and would like us to be your gift of time, book an exploratory call – we're here to support you.
https://www.creativewords.cc/wp-content/uploads/2021/04/BlogHeader_ValuesInAction_Blog06.png
315
560
The Content Alchemist
https://www.creativewords.cc/wp-content/uploads/2022/07/CW-LOGO-R-Landscape-White-300x128.png
The Content Alchemist
2021-04-30 16:00:12
2021-04-30 16:00:12
Being the gift of time