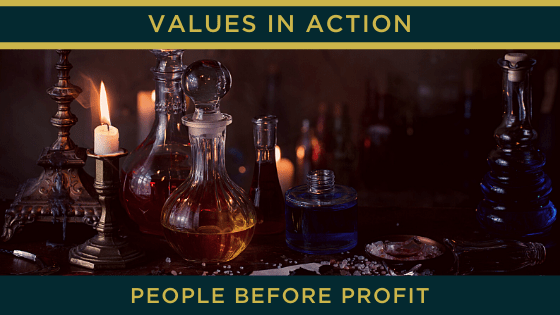 At Creative Words our people are the beating heart of our business and are always more important than profit.
They come first. Always. And while we'll always do what we can to deliver great work for our clients, every member of our team is a human being first and deserves to be treated with respect. They're all entitled to guilt-free holidays, to work reasonable hours, and to take time off if they're sick or facing a family crisis.
Prioritising our peoples' needs
When you're running a small business it's really easy to fall into the trap of focussing on your bottom line, to the exclusion of all else. And this is especially true in those first few years when money is really tight.
At Creative Words, the majority of our team are freelancers. While they're each skilled in the content and/or set up services they provide, in most cases, they don't want the hassle of having to grow their own business and find new clients. So we bring the clients and work to them.
The downside of freelance work is that clients can be very lovely but very demanding and not very understanding! But that's not the case with Creative Words…
People before profit
You see, we understand that to be creative and deliver brilliant results, you need space and time. So, if one of our team is sick or they have a family crisis, we step up and defend that with our clients.
Now don't get me wrong, this isn't about everyone running around without a care or responsibility in the world. Not at all! Every person in our team is held to account and works to the quality standards enshrined in our other values. But what it does mean is that our people aren't expected to be machines or to get it right every time. Instead, their humanness is welcomed and appreciated.
Let's have a look now at an example of how we embrace this value of people above profit in our business…
Harriet the writer
(Names have been changed to protect the innocent!)
Harriet is a writer for Creative Words. With two children and a part-time job, she's also able to freelance around her main responsibilities, which works out great for her.
Sadly, Harriet's life came apart when her marriage came to an end. As you can imagine, the emotional and physical upheaval of such a huge life experience was extremely challenging for her. This resulted in work she'd been excited to do just a few short weeks before, feeling almost impossible for her because she just couldn't concentrate.
Our first priority was to support Harriet at a time when she needed us most. So, we spoke to the client who Harriet created content for. Between us we agreed to extend the project deadline and we reassigned the work so that Harriet could take the break that she so desperately needed.
In the end Harriet actually stepped back from working with Creative Words for a while. She focused on her home life and put in motion the next steps she needed to take. When she was ready, Harriet came back to us feeling re-energised and focused and ready to deliver great work again. And we couldn't have been more delighted to welcome her back.
If you'd like to understand more about this value and ways that you can prioritise your people above profits, book yourself in for an exploratory call – we'd love to support you.
https://www.creativewords.cc/wp-content/uploads/2021/04/BlogHeader_ValuesInAction_Blog05.png
315
560
The Content Alchemist
https://www.creativewords.cc/wp-content/uploads/2022/07/CW-LOGO-R-Landscape-White-300x128.png
The Content Alchemist
2021-06-03 20:23:22
2021-06-03 20:23:22
People before profit