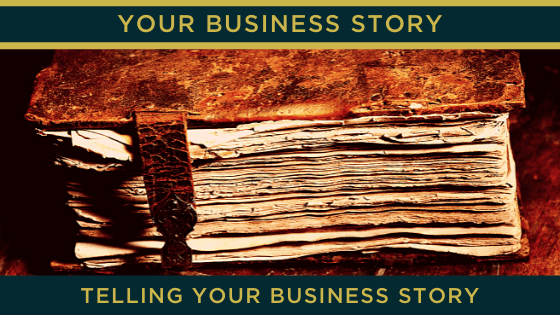 Telling your business story
Hands up who loves a good story?
Me too!
Children and adults alike, we all resonate with stories in some way. And the story of your business is no different. Told in the right way, it can be just as engaging as Jack and the Beanstalk or Rumpelstiltskin.
Facts tell and stories sell! So, to attract, engage and retain your business audience, it's time to get comfortable with being a storyteller.
Elements of a great business story
As with any great story, there are key elements that need to be included to make your business story as compelling as possible.
The plot
We all love a great plotline, and when it comes to your business story this is all about how your business came to be:
What led you to start your own business?
Were there pain points that drew you to be a business owner?
Did you have a 'Big Why' for forging your own path in the business world?
What were the key steps that you took when starting out?
What obstacles have you overcome to get to where you are now?
Characters
Every story needs some great characters that bring it to life. The characters in your business story will be those who inspired you, mentored you, supported you through the highs and the lows and any other key players in your team.
The characters inspire connection and bring the human touch to your business, which is one of the key ingredients to your business success. After all, people connect with people, so your customers are looking for more than just a great product or service.
The setting
The setting is all about where your business is based and when you're open. Your setting creates the backdrop for how your story plays out. For example, you might have a bricks and mortar business on a quaint market town high street; or you are in a brand new, purpose-built hotel in a prime location; or perhaps you're a digital nomad and your setting is the latest stunning location as you travel from place to place.
The story style
There will be multiple settings where you'll be sharing your business story, so you'll need to adapt it to suit the different audiences. Your core story is always the same, however, so it's not a full rewrite every time. As an example, you might give more importance to a certain part when you're sharing on social media, compared to when you're sharing at a networking event.
Of course, being content creation fanatics, we know a thing or two about storytelling. So, in this next series of blogs, we'll be sharing tips and ideas for telling your story using different styles – think website, social media, blogs, testimonials and networking.
If you want help telling your story, the best place to start is to book in for a free content review. Together we can ensure you're sharing it in the most impactful way possible.
https://www.creativewords.cc/wp-content/uploads/2021/07/BlogHeader_YourBusinessStory_Blog01.png
315
560
The Content Alchemist
https://www.creativewords.cc/wp-content/uploads/2022/07/CW-LOGO-R-Landscape-White-300x128.png
The Content Alchemist
2021-07-06 21:36:09
2021-07-06 21:36:09
Telling your business story