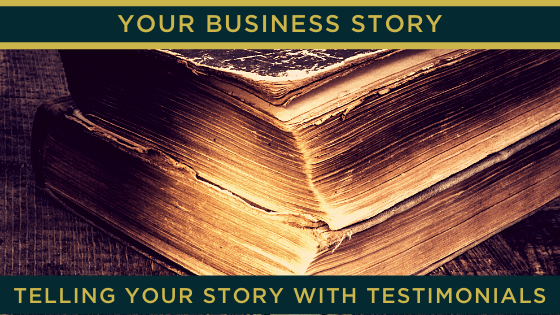 Telling your story through testimonials
Your business story doesn't always have to be told by you. In fact, in the right situation, it can be more powerful when it's told from the perspective of your clients in the form of a great testimonial.
There's a huge win-win for both you and your clients when it comes to giving and receiving testimonials.
Asking for a testimonial is a great way to reconnect with your client and have them share their experience of your business from their perspective. Ask questions like…
"What was life like before you found our product/service?"
"How has your life changed since working with us/using our product?"
"What do you love most about our business?"
"What would you say to someone considering our service?"
Their answers are not only helpful and interesting for future clients to read about, but they're also helpful for reconnecting your existing client with why they found you so amazing in the first place.
Open your mind to learning
There's something very humbling about receiving a testimonial. It gives you the opportunity to really listen and learn a lot about the things your customers value the most, and what they share may well surprise you.
Seeing your business through the eyes of your clients gives you an opportunity to receive a new perspective on what others see as your strengths and unique selling points.
As well as helping your business, their testimonial also raises their profile too when it's shared on your website and through your social media channels. Plus, you're also showing all your other customers your services or products from a different and unbiased perspective.
Testimonials enhance your story
Testimonials are a great tool when it comes to telling your business story. When you use them in settings like sales pages for example, they add credibility to the product or service you're selling.
You see, it's all well and good waxing lyrical in your business story about how great your business is and how you can solve XYZ. For the more sceptical potential client, however, they can easily sit in the space of, "Well you would say that – it's your business!". But as soon as you add in some testimonials from people just like them, their scepticism diminishes and opens up their minds to thinking, "If XYZ can happen for them, then it can happen for me too".
Testimonials give hope and credibility to new clients and tick all our boxes when it comes to our love of giving and receiving recommendations.
There are multiple ways to request a testimonial. For many, having some guidance with the types of questions you want answers to can make it easy for them. Providing guidelines and specific questions helps to gently guide clients towards talking about things that are linked to your business story. This type of honest and open sharing incentivises people and gives them hope that they will have the same experience too.
For more on how to request testimonials and things to consider in the process, take a look at my previous blog 'Testimonials – the win-win'.
If you'd like support with understanding the best way to weave testimonials into your business story for maximum impact, book in for a free content review.
https://www.creativewords.cc/wp-content/uploads/2021/11/BlogHeader_YourBusinessStory_Blog05.png
315
560
The Content Alchemist
https://www.creativewords.cc/wp-content/uploads/2022/07/CW-LOGO-R-Landscape-White-300x128.png
The Content Alchemist
2021-11-05 00:17:19
2021-11-05 00:17:19
Telling your story through testimonials