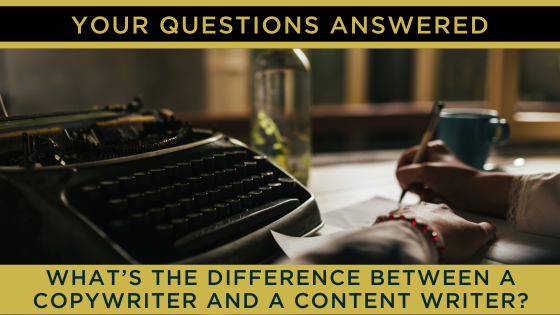 What's the difference between a copywriter and a content writer – and which one do I need?
If you are thinking about working with a writer to create words for your website, brochure, or a newsletter, it can sometimes be quite confusing to navigate which type of writer is best for you.
This isn't helped by the terms copywriter and content writer being used interchangeably. Add in technical terms, such as direct response writing and technical writing, and it gets even more confusing.
At the end of the day, we are all writers, so if you come across somebody in your searches who writes and seems like a good fit then by all means get in touch. If they can't help, they will usually tell you so and they'll probably know someone else who can help instead.
But let's take a look at the two main terms and explain them.
The role of a copywriter
The term copywriter has been around for just over 100 years. The role was created to write the words for adverts and it's from the advertising industry that the job title has come from. In an advertising agency of the past, the copywriter would be creating the text to go with the illustrations which would make up a newspaper advert.
For a great description of how copywriting used to work in the 1930s, we highly recommend the book Murder Must Advertise by Dorothy L. Sayers. It's a detective fiction, but it's set in an advertising agency. Sayers herself worked for an advertising agency as a copywriter, so it's an extremely accurate, although fictional, description of how advertising worked at that time.
So, strictly speaking, only engage the services of a copywriter if you want someone to write adverts for you. However, the title of copywriter has become used generically to mean anybody who writes any form of content for sales and marketing, and therefore, you will often find people describing themselves as a copywriter, and then offering blogs, web content and articles, which is, strictly speaking, not the role of a copywriter.
If you are looking for someone specifically for advertising copy (in other words content that will persuade somebody to buy) then the term that best to search on is probably direct response. A direct response writer is somebody who is writing content to persuade, and this is what copywriting in its most specific definition is doing.
Does that mean content writing is everything else?
A content writer is writing content. Sorry, that sounds a bit obvious, but let's just unpick that a little bit.
Again, being specific to the definition, content writing is anything intended to inform, entertain or educate. We always like the definition of content as being anything that adds value to an audience. If you are seeking someone to help you write blogs, the words on your website, emails which are for information rather than selling, newsletters, customer on-boarding emails, then you're probably looking for a content writer.
A content writer, however, doesn't write anything that isn't direct response. There are other forms of writing too. Technical writers, for example, write toward an expert audience (articles for engineers, or accountants, for example) rather than a general one; journalists write articles to report the news; business writers create business reports and processes. And then there are speech writers, script writers, authors, poets and lyricists too.
Unfortunately, with the definition of content being very broad, and the term content writer being used as a very general term, you can't always be certain that if you search online for a content writer the first person who comes up will actually be able to do the work that you need them to do.
Some writers write press releases, for example, and some don't. Some can help you with the content for a book and some can't; and some have journalistic skills so can write an article for a newspaper, while others might struggle. The sign of a good writer is one who you can trust to say, "I'm sorry I can't help you with that, but I know someone who can."
If you have doubts – if, for example, a writer tells you they can do any kind of writing – reassure yourself by asking to see examples of the type of work you are looking for. That will tell you they actually have experience in this field.  And don't be frightened to ask what results they've had for other clients. They ought to be able to tell you that too.
What if I don't know what I want?
Even though copywriters and content writers provide different services, it can be quite difficult to find the right person online because these terms are used so interchangeably.
Writers may describe themselves online as a copywriter because they know that is what people will most likely search for even if that's not the service they provide. We're guilty of this. We use the word copywriting on our website quite frequently on pages about marketing content, because we know it makes sure my website comes up in Google searches. We also use the expression content writing quite frequently for exactly the same reason. This is the modern challenge of describing what you do vs being found online (in other words, SEO optimisation). Every business has to dance that particular dance so don't judge a writer for using both terms.
So, what can you do? You know what you want written, but you don't know whether that needs a copywriter or a content writer or a technical writer or a business writer or a journalist or a ghostwriter or a…
My best advice is to connect with people who you think resonate with your kind of business and arrange a conversation. All content is a conversation and here at Creative Words we firmly believe that that is where any writing work should start. So, if you search online and find people who will write content for you without first speaking with you, avoid! The results would probably be quite generic, potentially written by a robot and often pretty disappointing.
Only by connecting with somebody can you be absolutely sure that they are the right person to write the words for your business.
That's why at Creative Words we always offer a free initial conversation. If you're not sure what kind of content you need written, but you think we might be able to help, click the link to book a call and we'll be happy to guide you.
https://www.creativewords.cc/wp-content/uploads/2023/09/BlogHeader_YourQuestionsAnswereds_Blog07.png
315
560
Katie Foster
https://www.creativewords.cc/wp-content/uploads/2022/07/CW-LOGO-R-Landscape-White-300x128.png
Katie Foster
2023-09-14 00:04:48
2023-09-14 00:04:48
What's the difference between a copywriter and a content writer – and which one do I need?